Kyo, 2006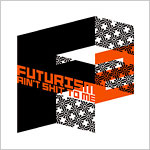 The sequel to Kyo's 2004 compilation offers an even wider variety of strange hip-hop. This time there are even excursions into grime and nerdcore.
First up is Soul Funk with "Ungst Fune Slag Collision." Over sneezes, telephone rings, and a needle torturing a record, a congested MC claims his "paragraphs are run-ons"! The background sounds are distractingly grating, but the track is short. "Soulhack" by Forss provides a more pleasant experience. This is Ninja Tuney funk, with a thick jazz bassline, a snare-heavy beat, and stuttering keyboard samples. Next up is the first of several grime cuts. "The Return of the Menstruating Man (Data MC Rmx)" by The Tape vs. Infinite Livez is amusing in more than just title. A British fellow raps about other people's girlfriends while a female MC eggs him on. The synths are simple but catchy, and the sung "don't call me when you're menstruating" chorus is just ridiculous. Sole's "On Martyrdom" sounds like a bunch of punkers playing around with an old Casio. They shout, "We're taking this one to the streets… the streets of Serbia, kids!"
There are a few weak tracks. On "Come on Feet," Quasimoto (aka Madlib) sounds like MF Doom—extremely creative, but with a lack of flow I find incredibly annoying. Prince Po's "Hold Dat (Club Mix)" (from The Slickness) is already starting to sound a bit old. On the "nerdcore" "I-Deez" by 8-Bit, three of the world's whitest MCs pretend they're robots. Sample lyrics: "I need a can of beer. I need it right now. I need a can of beer, so that I can freestyle." Again, it's mildly amusing but also irritating.
Thankfully, there are plenty of sweet electronic tracks. "Common Like Baseball Cards" by Macolm Kipe off Lit is incredibly tasty, as is "Rock On" by Jackson and His Computer Band. "Missing" by Daedelus features some interestingly distorted percussion. Even the Jamie Lidell mix of Otto Von Schirach's "Earjuice Synthesis" is kind of fun, and the instrumental Dabrye mix of "Keep Life Right" by BUS feat. MC Soom T (also anthologized on Additional Productions Vol. 1) is starting to grow on me.
Both volumes of Futurism Ain't Shit… survey the tangled fringes of electronic music and hip-hop. I wish there were exclusive cuts here, but this collection should inspire listeners to track down full-lengths by some innovative artists. It's certainly a scene worth watching.