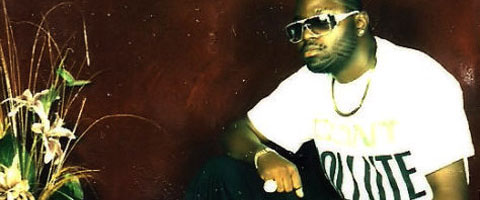 Any study of influential Chicago DJs would be incomplete without Farley Keith (later Farley "Jackmaster" Funk). Farley started DJing at the Playground in 1981, where he would stay through several name changes until 1987; however it was his work with the Hot Mix 5 on WBMX that reached the largest audience.
Farley was one of five original members in 1981, and his mixes exposed the entire city to what was happening in Chicago's South Side clubs. In 1984, Farley left for WGCI (after Scott "Smokin" Silz's departure). In 1986, he was joined by the rest of the group. Then Farley returned to WBMX in 1987, only to see the station sold.
I've compiled track lists for the earliest Farley mixes I could find online. All are hosted by DeepHousePage.com. It's interesting to see the balance between older disco and soul and contemporary European imports. In 1984 and 1985, local productions began to trickle in, but it wasn't until 1986 that there would be enough to fill most of a mix. Also of note are dark synthpop tracks, notably in mix 1277. By contrast, see the mainstream Billboard dance hits of 1985.
Some of the IDs below were first compiled by Mister_DJ at Old Skool Anthemz. Special thanks to Magic Juan for filling in many gaps. Please let me know if you can identify any of the missing tracks.
WBMX, 1985 [~1986]
Source: DeepHousePage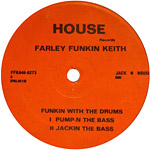 The Rude Boy Farley Keith: Give Your House To Me

/Peech Boys: Don't Make Me Wait (Acappella)
Serious Intention: You Don't Know

The It: Donnie

Farley Funkin Keith: Jackin the Bass [Funkin with the Drums]

Mr. Fingers: Mystery of Love

Ron Hardy: Sensation

Mach: On & On

Alessandro Novaga: Faces Drums 3

Chip E.: It's House

Farley Jackmaster Funk: Jack'n The House

Grant: Dance

Farley Funkin Keith: Snare Crazy

Stop: Wake Up
The Michael Zager Band: Let's All Chant

Alexander Robotnick: Problèmes D'Amour

Raz: Baila (Razzmatazz)
WBMX, 1984 or 1985
Source: DeepHousePage
Lee Ritenour: Countdown (Captain Fingers)
Brenda Taylor: You Can't Have Your Cake and Eat It Too
Machine: Is It Love
Inner Life: I'm Caught Up (In a One Night Love Affair)
Herbie Hancock: Magic Number

Kasso: One More Round

Poopee and the N.Y. Squirrels: Bust That Nut (intro)
Sharon Brown: I Specialize in Love
Serge Ponsar: Out in the Night
Patrice Rushen: Number One (Instrumental)
Madonna: Holiday
Herbie Hancock: Autodrive
Man Parrish: Hip Hop Be Bop (Don't Stop)
Two Sisters: High Noon
Two Sisters: B-Boys Beware
Freeez: I. Dub. U.
Freeez: I.O.U.
WBMX, 1980s [~1985]
Source: DeepHousePage
Farley Jackmaster Funk: Farley Farley

(Status IV: You Ain't Really Down acappella, Colonel Abrams: Trapped acappella, First Choice: Let No Man Put Asunder acappella)

J.M. Silk: Music Is The Key

Thelma Houston: You Used To Hold Me So Tight
Master Jay & Michael Dee: T.S.O.B
Serious Intention: You Don't Know/

Farley Jackmaster Funk: Farley Farley
326. farleywgci (Farley on WGCI '80's), 439. farley252.rm
WGCI, 86-87?
Source: DeepHousePage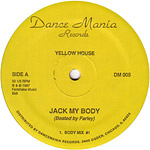 Mr. Fingers: Can You Feel It?

/The Source feat. Candi Staton: You Got the Love (House Apella)

Mr. Fingers: Beyond the Clouds

/Martin Luther King speech
T.C. Curtis: You Should Have Known Better

Yellow House: Jack My Body

Frankie Knuckles: It's A Cold World

Bohannon: Let's Start II Dance Again
Taana Gardner: Work That Body
Nightlife Unlimited: Peaches & Prunes (sounds like Ron Hardy edit)

Kikrokos: Life Is A Jungle (edit)

The Housemaster Boyz & The Rude Boy of House: House Nation

John Rocca: I Want It to Be Real
WBMX, early 80s [~1984]
Source: DeepHousePage
Billy Frazier & Friends: Billy Who?
Skatt Bros: Walk The Night
Loleatta Holloway: Love Sensation (Instrumental/Acappella/Walter Gibbons mix)
Diana Ross: Love Hangover (break)
First Choice: Let No Man Put Asunder (Instrumental/Acappella)
Phreek: Weekend
Tony Cook & The Party People: On The Floor (Rock-It)
Sylvester: I Need You
WBMX, Chicago, 1984-85? [last 3 tracks on Martin Luna CD-R version]
Source: DeepHousePage
unreleased Farley beats

Midway: Set It Out
Colonel Abrams: Music Is The Answer

Z-Factor: I'm The DJ

Knight Action: Single Girl

Pet Shop Boys: West End Girls (intro)

Plastic Mode: Baja Imperial

Klein & MBO: Dirty Talk

Alessandro Novaga: Eletronic Drums [sic] Fusi Four
L'Amour: Let's Make Love Tonight

Starflight: Dance to the Beat

Alisha: All Night Passion

Kasso: Walkman

Massimo Barsotti D.J.: ‎Whole Lotta Love (Another Version)

Liaisons Dangereuses: Los Niños Del Parque

Dominatrix: The Dominatrix Sleeps Tonight
WGCI Mastermixes, 1987? [~1986]
Source: DeepHousePage
Teddy Pendergrass: Only You

Robert Owens: Bring Down the Walls

/Ellis-D: My Loleatta

On The House with Marshall Jefferson: Ride The Rhythm

/train effect/

Virgo: Go Wild Rhythm Trax B3

Frankie Knuckles: It's A Cold World

Dan Hartman: Vertigo/Relight My Fire
Wally Jump Jr. & The Criminal Element: Turn Me Loose (Loose Lips House Mix)
Nitro Deluxe: Let's Get Brutal
Stephanie Mills: Put Your Body in It
Paul Lewis: Girl You Need A Change Of Mind

Jamie Principle: Waiting On My Angel

Two Tons of Fun: I Got the Feeling
The Michael Zager Band: Let's All Chant
Modern Romance: Salsa Rappsody

Mr. Fingers: Can You Feel It?

ad break
WBMX, 1980s [~1986]
Source: DeepHousePage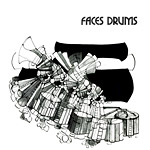 The Crusaders: Street Life
Shot: Main Thing
Pam Todd & The Love Exchange: Let's Get Together
First Choice: Love Thang
Five Special: Why Leave Us Alone
The J.B's: Doing It to Death/Lyn Collins: Think (About It) intro

Virgo: Go Wild Rhythm Trax B2

Tracy Weber: Sure Shot

Alessandro Novaga: Faces Drums 3

/Martin Luther King sample
Eddie Kendricks: Goin' Up in Smoke

Farley Funkin Keith: Jackin the Bass [Funkin with the Drums]

David Joseph: You Can't Hide (Your Love From Me)

Jago: I'm Going To Go

The Rude Boy Farley Keith: Give Your Self To Me
WGCI Mastermix, 1986-87?
Source: DeepHousePage
Project 122: Kiss Me Baby

Farley "Jackmaster" Funk & Jessie Saunders: Love Can't Turn Around

Farley Jackmaster Funk/Ricky Dillard: It's All Over (unreleased)

Bam Bam: You've Been Messin Around (Steve "Silk" Hurley Mix)

Farley Funkin Keith: Jackin the Bass [Funkin with the Drums]

Sparque: Let's Go Dancin'

Liz Torres feat. Kenny "Jammin" Jason: What You Make Me Feel/What You Make Me Feel (Jack Track)

Darryl Pandy: Climax (Trax/Short/Long)

Duane and Co.: Piano Traxx

The Force: It's O.K., It's O.K. (Tracks)

Tyree: I Fear the Night

The Housemaster Boyz: Trax U Lost

Kat Mandu: I Wanna Dance
Anthony and The Camp: What I Like
Friday Night Jams, WBMX, 1985, courtesy of Mario Luna
Source: DeepHousePage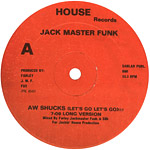 Frankie Goes To Hollywood: Welcome to the Pleasure Dome (Alternative to Reality) intro
Coati Mundi: Que Pasa/Me No Pop I
Bumblebee Unlimited: I Got a Big Bee (break)
Skipworth & Turner: Thinking About Your Love
Rose Royce: Do Your Dance

Savage Progress: Heart Begin to Beat

World Premiere: Share the Night
Touche: Just Like a Doorknob
The Montana Sextet: Heavy Vibes
Earl Young's Trammps: What Happened to the Music (Dub Mix)
Visual: The Music Got Me
Colonel Abrams: Music Is The Answer

Jack Master Funk: Aw Shucks (Let's Go Let's Go)

Jamie Principle: Waiting On My Angel

Jesse Saunders: Waiting On My Angel

[tape pause]

Plastic Mode: Baja Imperial

Master Jay and Michael Dee: T.S.O.B
Colonel Abrams: Trapped (Acappella)

Virgo: Go Wild Rhythm Trax B2

Freeez: Acappella U.

Klein & MBO: Dirty Talk

/

beats
WBMX, 1985, compliments of Mario Luna, Chicago
Source: DeepHousePage
Yello: Vicious Games

Yello: You Gotta Say Yes To Another Excess

Yello: Bostich

Jesse's Gang with Farley "Funkin" Keith: Real Love (Is It Real?) (Dub/Vocal)

Fresh: Dum Dum

Alexander Robotnick: Problèmes D'Amour

Candido: Thousand Finger Man

Stars on 45 Theme

Trilogy: Not Love

Stopp: I'm Hungry

Hugh Masekela: Don't Go Lose It Baby

Farley Funkin Keith: Jackin the Bass [Funkin with the Drums]

/Sharon Redd: You're a Winner
Prince and The Revolution: When Doves Cry
Newcleus: Computer Age (Push the Button)
Farley Funkin Keith and Julian Perez, WBMX, Chicago, compliments of Mario Luna, 1985
Source: DeepHousePage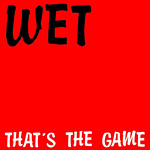 Quando Quango: Love Tempo

George Kranz: Trommeltanz (Din Daa Daa)
Laid Back: White Horse
Karen Young: Hot Shot

Adams & Fleisner: Mix Your Own Stars Track Three (128 BPM) Latin

The Coachouse Rhythm Section: Time Warp

Powerline: Double Journey
Sylvester: I Need You (edit)
Persia: Inch by Inch
Harvey Mason: Groovin' You (break edit)
Nightlife Unlimited: Peaches & Prunes

Bo Kool: (Money) No Love

Taana Gardner: Work That Body
Konk: Your Life

Night Moves: Transdance

Wet: That's The Game

X-Posed (Exposé): Point of No Return
Mascara: Baja (Instrumental Dub Version)

Africa: A.I.E. (A Mwana)

Lime: I Don't Wanna Lose You
John Rocca: Once Upon a Dub
Debbie Deb: Lookout Weekend
Saturday Night Live Ain't Chicago Dance Party – WBMX, 3/16/85
Source: DeepHousePage
Jamie Principle: Your Love

Black Gold: C'mon Stop
Billy Frazier & Friends: Billy Who? (break)
Geraldine Hunt: Can't Fake The Feeling (edit)
The Salsoul Orchestra: Ooh, I Love It (Love Break)
Extra: Haven't Been Funked Enough
Northend feat. Michelle Wallace: Happy Days

Alessandro Novaga: Faces Drums 1

Bumblebee Unlimited: Lady Bug

Farley Funkin Keith: Bass Love

Klein & M.B.O.: The MBO Theme

Isaac Hayes: I Can't Turn Around (edit)

Jesse Saunders: Funk-U-Up (Bonus Beats)

J.M. Silk: Music Is The Key

The Michael Zager Band: Let's All Chant
Taana Gardner: Work That Body
Bohannon: Let's Start The Dance (edit)
Power 107.5 – WGCI Mastermix, 12/19/86
Source: DeepHousePage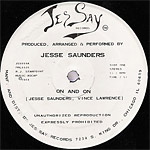 Frankie Knuckles: It's A Cold World

Virgo: Go Wild Rhythm Trax A1

Jesse Saunders: On and On (5A)

Fingers Inc.: You're Mine

Mr. Fingers: Can You Feel It?

J.M. Silk: I Can't Turn Around (House In E-flat minor)

Jesse Saunders: On and On (4A & B)

Farley Jackmaster Funk/Ricky Dillard: It's All Over (unreleased)

Master C & J: Face It

/Carl Bean: I Was Born This Way

On The House: Ride The Rhythm

/Martin Luther King speech

The House Rockers feat. Frankie "Hollywood" Rodriguez and Jimmy L.A. Perna: Everybody Do It!

Yellow House: Jack My Body

Klein & M.B.O.: The MBO Theme
Saturday Night Live Chicago Dance Party – WBMX, 11/24/84
Serious Intention: You Don't Know (Limited Edition Special Remix)

Zinn-Zinn: Rhythm Shoppin'

Tempest Trio: Do You Like The Way It Feels
Touche: Just Like A Doorknob

beats [15:25]

Loleatta Holloway: Love Sensation (edit)

Jago: I'm Going To Go

Evelyn Thomas: High Energy

Gaucho: Dance Forever

Frankie Goes to Hollywood: Two Tribes (Carnage)

Kikrokos: Life Is A Jungle

(edit)
Kleeer: Keeep Your Body Workin'
WBMX, 1986 [tracks 1-20 WGCI 1986, tracks 21-33 WBMX ~1984?], compliments of Mario Luna
Source: DeepHousePage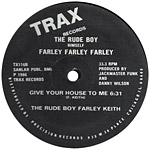 Mr. Fingers: Mystery of Love

Farley Jackmaster Funk: Farley Farley

Mr. Lee & Kompany: Shoot Your Best Shot

Chip E: Like This

T.H.: Don't Forget (To Buy This Record)

[announcement, tape pause]
Mach: On & On [tape pause]

The It: Donnie

Raw Silk: Do It To The Music

Mr. Fingers: Mystery of Love

Virgo: Go Wild Rhythm Trax A1

The Rude Boy Farley Keith: Give Your Self To Me

Farley Jackmaster Funk: Jack'n The Trax

T.H.: Don't Forget (To Buy This Record)

Trilogy: Not Love

Loose Joints: Is It All Over My Face [start of West End Records medley?]
Sparque: Let's Go Dancin'
Master Boogies Song and Dance: When The Shit Hits The Fan
Taana Gardner: Work That Body
Loose Joints: Is It All Over My Face
Gibson Brothers: Cuba
Suzy Q: With Your Love

Starflight: Dance To The Beat

Magnum Force: Get in the Mix

My Mine: Zorro

Roni Griffith: Dancing Machine
Martin Circus: Disco Circus
WBMX, 10/27/84
Source: DeepHousePage
Peech Boys: Don't Make Me Wait (acappella)
MFSB: Love Is the Message
Paul Simpson Connection: Use Me Lose Me (Reprise Me)
Circuit: Release the Tension
Tempest Trio: Do You Like The Way It Feels
Culture Club: White Boy
Earl Young's Trammps: What Happened to the Music (Dub Mix)
First Choice: Doctor Love (Special Remix)
Master Jay & Micheal Dee: T.S.O.B
Karen Silver: Nobody Else
George Duke: I Want You For Myself
Fantasy: You're Too Late
Nick Straker Band: Straight Ahead (Insr. Reprise)
WBMX, Apr 1984
Source: DeepHousePage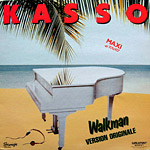 Skatt Bros: Walk The Night

Patricia Harris: Heaven Is… (In the Back Seat of My Cadillac)

Kasso: Walkman

Plastic Mode: Baja Imperial

MFSB: Love Is the Message
Sparque: Take Some Time
Denroy Morgan: I'll Do Anything For You
Paul Lewis: Girl You Need A Change Of Mind
Loleatta Holloway: Love Sensation (Shep Pettibone Mix/acappella)
The Salsoul Orchestra: Ooh, I Love It (Love Break Groove)
Bruce Johnston: Pipeline
Project: Love Rescue
WBMX WGCI, 10/25/86
Source: DeepHousePage
The Housemaster Boyz & The Rude Boy of House: House Nation

Project 122: Kiss Me Baby

Raz: Amour Puerto Riqueno (Puerto Rican Lover)

Santos: Work The Box

Fingers Inc: A Path

/Sinnamon: I Need You Now acappella/Serious Intention: You Don't Know (Accapella)/
Billy Frazier & Friends: Billy Who?/

Virgo: Go Wild Rhythm Trax A1

Adonis: W.R.D.T. House (Instrumental)

Frankie Knuckles: You Can't Hide From Yourself

Klein & M.B.O.: The MBO Theme

/train effect
Ronnie Dyson: All Over Your Face
Ecstasy, Passion & Pain: Touch and Go/train effect

J.M. Silk: Music Is The Key

/The Source feat. Candi Staton: You Got the Love (House Apella)
Tempest Trio: Do You Like The Way It Feels
WBMX, 1985-1986
Source: DeepHousePage
?

J.M. Silk: Music Is The Key

Farley Funkin Keith: Jackin the Bass [Funkin with the Drums]

/Wham!: Everything She Wants

Jack Master Funk: Aw Shucks (Let's Go Let's Go)

John Rocca: Once Upon a Dub
Nick Straker Band: A Little Bit of Jazz

Koto: Visitors

Alexander Robotnick: Problèmes D'Amour

Rick James: Glow

Jack Master Funk: Jack The Bass

Raz: Baila

Laid Back: White Horse
Evelyn Thomas: High Energy
WBMX (unknown date)
Courtesy of Martin Luna
George Kranz: Trommeltanz (Din Daa Daa)
First Choice: Let No Man Put Asunder
Weeks & Co: Knock, Knock (Instrumental)
Cuba Gooding: Happiness Is Just Around The Bend/beats

Starflight: Dance to the Beat

Michael Jackson: Thriller (edit)
Earl Young's Trammps: What Happened to the Music (Dub Mix)/train effects
John Rocca: I Want It to Be Real
Interboro Rhythm Team: Watch The Closing Doors

My Mine: Hypnotic Tango

Ris: Love-N-Music (break)

Martin Circus: Disco Circus/

Adams & Fleisner: Mix Your Own Stars Track One (119 BPM)

Baricentro: Tittle Tattle

Black Gold: C'mon Stop
WBMX (unknown date)
Courtesy of Martin Luna
Taana Gardner: Work That Body
Gary's Gang: Makin' Music (Dub Mix)
Lime: Angel Eyes
New Order: Confusion
Play By Numbers: Cloud Nine (Ready Mix)
Martin Circus: Disco Circus
First Choice: Let No Man Put Asunder [pause]
Bruce Johnston: Pipeline
Liquid Liquid: Optimo

Telex: Moskow Diskow

Don Armando's Second Avenue Rhumba Band: Deputy of Love
WBMX (unknown date)
Courtesy of Martin Luna
Prince: Let's Go Crazy (intro)
Donna McGhee: It Ain't No Big Thing
The Jones Girls: You Gonna Make Me Love Somebody Else
Pam Todd & Love Exchange: Let's Get Together (looped intro)
Willie Hutch: Brother's Gonna Work It Out
Ecstasy, Passion & Pain: Touch and Go
Jean Carn: Was That All It Was
Farley "Funkin" Keith (WBMX April 1984)
Courtesy of Jerry Willis
Billy Frazier & Friends: Billy Who?
Skatt Bros: Walk The Night
Loleatta Holloway: Love Sensation (w/acappella)
Diana Ross: Love Hangover (break)
First Choice: Let No Man Put Asunder
Class Action: Weekend
Tony Cook & The Party People: On the Floor
Sylvester: I Need You
Thelma Houston: I'm Here Again
The Trammps: Body Contact Contract (break)/train sound effect
Harry Thumann: Underwater
T.W. Funkmasters: Love Money
ESG: Moody
Candido: Jingo
Farley "Jackmaster Funk" (WBMX July 1984)
Courtesy of Jerry Willis
Doctor's Cat: Feel the Drive (Trans Europe Mix)

Jesse Saunders: Funk You Up

Telex: Brainwash

Frankie Goes to Hollywood: Relax (New York Mix)
Loleatta Holloway: Crash Goes Love
Alisha: All Night Passion

Z-Factor: Fantasy (Instrumental)

Xena: On the Up Side
Interboro Rhythm Team: Watch The Closing Doors
Shannon: Give Me Tonight (Dub Version)

Night Moves: Transdance

John Rocca: I Want It to Be Real (Instrumental)
Lime: Angel Eyes
Peter Brown: They Only Come Out at Night
Farley "Jackmaster Funk" (WBMX June 8, 1985)
Courtesy of Jerry Willis
Nick Straker Band: A Little Bit of Jazz
Rick James: Glow
Michelle Wallace: It's Right

Jack Master Funk: Aw Shucks (Let's Go Let's Go)

Chip E.: Time to Jack

Farley Funkin Keith: Jackin the Bass [Funkin with the Drums]

Skatt Bros: Walk The Night

Liaisons Dangereuses: Los Niños Del Parque

Plastic Mode: Baja Imperial

Jenny Burton: Rock Steady
Model 500: No UFO's (Inst/Vocal) [pitched down]
Farley "Jackmaster Funk" (WBMX July 13, 1985)
Courtesy of Jerry Willis
Lisa Lisa and Cult Jam with Full Force: Wonder If I Take You Home

J.M. Silk: Music Is the Key

Farley Keith: Funkin' with the Drums

/Colonel Abrams: Trapped (a cappella)

Gwendolyn: Come To Me (Farley Mix)

Chip E.: MB Dance

Jack Master Funk: Aw Shucks (Let's Go Let's Go)

Koto: Visitors

The B-52's: Mesopotamia

Jesse's Gang: Real Love

Chip E.: Time to Jack

Chip E.: It's House

Jamie Principle: Waiting on My Angel

Gaucho: Dance Forever (D.J. Version)

Kano: It's a War

Paul Parker: Don't Play With Fire
ESG: Moody (Spaced Out Mix)
Young & Company: I Like (What You're Doing To Me)
Farley "Jackmaster Funk" (WBMX August 10, 1985)
Courtesy of Jerry Willis
Jack Master Funk: Jack the Bass/Farley Funkin Keith: Jackin the Bass [Funkin with the Drums]

Magazine 60: Don Quichotte

Afrika Bambaataa and Soulsonic Force: Renegades of Funk!
Loleatta Holloway: Crash Goes Love

Fresh: Dum Dum

O'Jay's: Put Our Heads Together
Sinnamon: Thanks to You

Dharma: Plastic Doll

Gwendolyn: Come To Me (Farley Mix)

Steve "Silk" Hurley: I Don't Know (aka Shooting Stars)

John Rocca: I Want It to Be Real
Farley "Jackmaster Funk" (WBMX March 22, 1986)
Courtesy of Jerry Willis
vocoder singing "Mystery of Farley"/Mr. Fingers: Mystery of Love

The It: Donnie

Roy Ayers: Hot
Tempest Trio: Do You Like The Way It Feels
Chaka Khan: I'm Every Woman
Michael Jeffries: Razzle Dazzle
Loleatta Holloway: Love Sensation

White Knight: Never Give Up/Chip E.: It's House

Shawn Christopher: People of All Nations

The Rude Boy Farley Keith: Give Your Self To Me

J.M. Silk: Shadows Of Your Love (House Mix)

The Homeboyz feat. Renny: It's Your Night

Farley Funkin Keith: Jackin the Bass [Funkin with the Drums]

Chip E.: Time to Jack
Farley "Jackmaster Funk" (WGCI Dec 27, 1986)
Courtesy of Jerry Willis
B.T. Express: Peace Pipe

Mr. Fingers: Beyond the Clouds/Martin Luther King speech

Virgo: Go Wild Rhythm Trax A1

[mixes in and out over next 5 tracks]

Master C & J: Face It

Mr. Fingers: Can You Feel It

Klein & M.B.O.: The MBO Theme

J.M. Silk: I Can't Turn Around (House In E-flat minor)

Status IV: You Ain't Really Down acappella/beats

The Rude Boy Farley Keith: Give Your Self To Me

The Housemaster Boyz & The Rude Boy of House: House Nation

Yellow House: Jack My Body (Body Mix #3)

Jesse's Gang featuring Ronnie: Spies

On The House with Marshall Jefferson: Ride The Rhythm
Source: Manny Cuevas
House People: Godfather of House

Tyree: I Fear The Night

Fingers Inc.: Mystery of Love

? [10:10]

Chip E.: If You Only Knew

Liz Torres feat. Kenny Jammin' Jason: What You Make Me Feel (Fierce Mix)

Fresh: The Real Love

Marshall Jefferson: The House Music Anthem – Move Your Body

The Rude Boy Farley Keith: Give Your Self To Me

/

?

The House Master Boyz: Thanks 4 The Trax U Lost

Cultural Vibe: Ma Foom Bey

Farley Jackmaster Funk/Ricky Dillard: It's All Over (unreleased)/The Force: It's O.K., It's O.K.

The Rude Boy Farley Keith: Give Your Self To Me

Farley "Jackmaster" Funk & Jessie Saunders: Love Can't Turn Around

? [44:28; Jack the Box]

Farm Boy: Move

North End: Happy Days [double copies]
Tempest Trio: Do You Like The Way It Feels
George Clinton & Parliament: Not Just Knee Deep
Source: Manny Cuevas
Phyllis Nelson: I Like You (Dub)

Farley Jackmaster Funk: Farley Farley

Farley Funkin Keith: Jackin the Bass

Farley Jackmaster Funk: Farley Knows House

Portion Control: The Great Divide

Dharma: Plastic Doll (Remixed) (Instrumental)

Razz: Say It

Night Moves: Transdance

Razz: Razz-Matazz

Gaucho: Dance Forever [briefly]

Quando Quango: Atom Rock

Razz: Kill Yourself Dancing

Ris: Love-N-Music

[presumed start of Mickey "Mixin" Oliver mix]