Eglo Records, 2011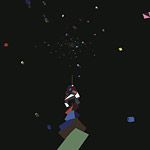 "Best of" charts are the hidden pleasure and the ultimate curse of the music journalist. A few days ago, when I had almost completed my 2011 list for my friends at Resident Advisor, I had to reconsider my choices after listening to this year's fourth EP by Floating Points, aka Sam Shepherd, for his Eglo Records.
While Shepherd's previous three releases didn't really impress me (despite Four Tet selecting "Sais (Dub)" for his FabricLive 59 mix), Shadows is an instant favorite. It's a five-track release straight from Shepherd's analog-equipped studio. It's labelled as an EP, but if you consider the length and quality of each tune, it feels more like an LP.
Shadows is the latest collaboration between Floating Points
and audio/video artist Will Hunt. It introduces a Max/MSP patch (graphical environment for real-time processing) designed by Hunt which studies drum machine and synthesizer activity to generate visuals in real-time.
Every tune here is strong, beginning with "Myrtle Avenue," an epical (10-minute), asymmetrical composition of sounds. It's a deep groover, where warm electronics and up-tempo drums get together in a funky vibe. Unexpectedly, a female vocal snippet comes in around minute eight and improvises over the melody.
"Obfuse" is an energetic drum-machine exercise intertwined with a
dreamy soundscape. Synths are fuzzily distorted and get acid-invigorated by the end of the track. "Realise" offers a consistent, abstract melody punctuated by loud kick drums—we are in a very mature portion of UK Garage territory.
"ARP3" is an emotional, pure techno tune. It's also the most dancefloor-oriented track in the EP. The vibe is hypnotic and futuristic. Listen to the percussion blurring away, and you'll hear nostalgic, chunky piano chords emerge.
"Sais" emerges from a crackled frame and develops into a broken beat
gallop, sparkling with upright bass and a contemplative keys motif. It's an introspective affair, with sparkling sonic qualities and fine Rhodes improvisation. These five tracks make Shadows an essential purchase. It goes straight into my "Best of 2011" selection—just in time.