Lex, 2004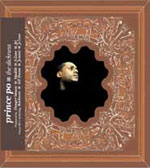 After a wild 12″ ("Hold Dat"), Organized Konfusion alum Prince Poetry finally drops his first solo album. Over thick (if sometimes muddy) electronic production by Danger Mouse, Madlib, and others, Po's lyrics flow. His first line on "Hello," "Locked and load like Depeche Mode's cold," sets the tone. Po further confirms his underground aspirations with another clever band name pun, claiming, "I used to be a Radiohead, now radio's dead." My only complaint is this track is too short.
Next up is the smooth and catchy "Too Much" and the light and summery "Love Thang." "Hold Dat" featuring Jemini and Rell is a straight-up club track, with a vocal hook over long synth tones. "Social Distortion" featuring MF Doom dips into current events for a word-packed commentary on the media. "Bump Bump" featuring Wu-Tang Clan's Raekwon is another dance track. I keep expecting Busta to show up. Nonetheless, the lyrics, including a reference to Thelonious Monk, keep the jam from being completely superficial. Another highlight is "Fall Back," a violent battle rhyme featuring Jemini and Cairo over a funky, horn-filled break.
While it's difficult to avoid comparisons to Po's previous successes, The Slickness sees Po reinventing himself. Like The Roots' recent album, this LP treads the line between underground and pop, offering deeper than average club tracks and cutting-edge production while retaining interesting lyrics.