Ghostly International, 2005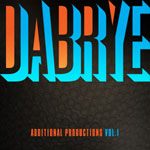 This EP of remixes by electronic break programmer Dabrye (aka James Cotton and Tadd Mullinix) has a few tasty tracks. First up is a broken-beat mix of the silly, trivial "Nite Eats Day" featuring rapper Beans. Thankfully it's followed by a short but sweet mix of "Monstertruckdriver" by T.Raumschmiere. The heavy snare beat is catchy, while the synthesizer part sounds similar to "Won" off Dabrye's Instrumntl LP.
Electronic orchestral flourishes adorn Trans Am's electro "Infinite Wavelength." Dabrye's mix of "Not Wisely/Too Well" by Nomo is a little jazzy, with horns over heavily manipulated percussion. On "Keep Life Right" by Bus featuring MC Soom-T, Dabrye applies his distinctive synth bursts to poppier fare. (An instrumental version is also included.) Finally, Ill Suono's "Angel Beat" combines repetitive vocal bits with hip-hop beats.
I'm not familiar with all of the original versions of these tracks, but this collection has a surprisingly consistent sound. I just wish the mixes were longer and a bit more complex.