Honest Jon's, 2011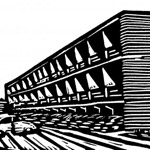 It may be cliché to describe a Finnish artist's music as glacial, but Sasu Ripatti (aka Vladislav Delay) has always had a knack for crafting enormous, slow-moving sound structures. His band (presumably inspired by formed before the Moritz von Oswald Trio) includes fellow Finn Mika Vainio (aka Ø) who is also known for creating powerful noises. Lucio Capece (who has collaborated with Vainio in the past) plays bass clarinet and soprano sax, and Derek Shirley is on double bass.
This is not easy listening. "Minus Degrees, Bare Feet, Tickles" begins with crackling layers of static. High pitched saxophone tones become more frequent and less mechanical until they are joined by rhythmic metallic pounding. This piece refuses to be background music—you have to close your eyes and let it envelop you.
At first, "Sonta Teresa," is quieter, with light percussion and bass notes that alternate at a slow rowing pace. Eventually Capece's blowing enters free jazz territory. Vainio's synth work ranges from subtle to overpowering as the composition progresses. "Des Abends" allows Shirley to toy with jazzy motifs, but the loud processed noises over top are more distracting than complementary.
"Hohtokivi" definitely has a Vainio feel to it, starting with rhythmic electric hums. They are joined by wind instrument puffing, weird percussion, and screeching feedback. Even after three listens in a row, I find description difficult. The group begins to gel on "Killing the Water Bed." Saxophone riffs are processed and multiplied while the rhythm section meanders. At the end it breaks down to cymbals and squeaks.
Compared to the other tracks, "Presentiment" is short at a mere four minutes. Orchestral flourishes and slow bass are caressed by electric piano. Hums and horns creep in at the edges. It is a beautiful piece, though I could do without the overused sonar sounds.
I can honestly say I haven't heard anything like "Louhos" before. It lurches along at 3/4 time with swarming horns over industrial noise makers. You could head bang to it. After such a rousing climax, the drone outro "Salt Flat" falls flat. An album as wild and powerful as this one should go out with a roar.