Editions Mego, 2011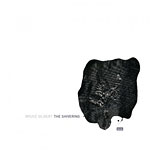 When the beats on album opener "Angel Food" kick in, it's hard to believe this music was first released twenty-five years ago. The track begins with reverberating industrial clanks, but its second movement sounds like techno.
This is the second Bruce Gilbert solo album to be re-issued by Editions Mego. Gilbert was guitarist for a punk group called Wire, but his background was avant-garde art. Appropriately, noise artist and Gescom member Russell Haswell did the remastering for this edition. This sort of British electronic experimentation laid the groundwork for contemporary artists from Autechre to Demdike Stare.
The title track begins with squiggles of artificial laughter. Icy string plucks chatter, then an electronic loop comes crashing in. Clatters, groans, and buzzes build into a tense sound collage. "Net in the Feather" reminds me of Soundhack. A train-like sound is chopped into strobing chunks. The effect is even more dramatic when applied to bagpipes panned between channels. Finally, a series of tribal yelps punctuate the dancing rhythm.
Wire bassist Graham Lewis contributes poetic spoken word to "There Are." Ambient echoes and chants create a truly haunting effect while Lewis utters lines like, "Pale and thin, there are angels afloat on the moor. Their pockets are filled with deliverance printed on the finest banknote paper." Near the end it suddenly splices to looped industrial electronics and a steam whistle.
"Hommage" is blues in abstract. Electric guitars burst, jig, and withdraw. "Eline Cout II" and "Epitaph for Henran Brenlar" are simply beautiful. On the former, choreographer Angela Conway sings over a bare synthesizer line and a simple drum machine. Mid-way through, layers of echo crescendo. "Epitaph for Henran Brenlar" is mostly instrumental, with improvised guitar over sequenced beats and bass. Muted strings and tremulous, spaced-out notes create a moody atmosphere. There are a few bars of melodramatic singing, but thankfully they are brief. The guitar work reminds me of Manuel Göttsching's E2-E4.
I could wax poetic on the historical significance of mid-eighties British electronic and industrial music, but truth be told, this album can be enjoyed outside that context. The only part that strikes me as dated is the surprisingly literal dance interpretation of the title track included as a bonus video.