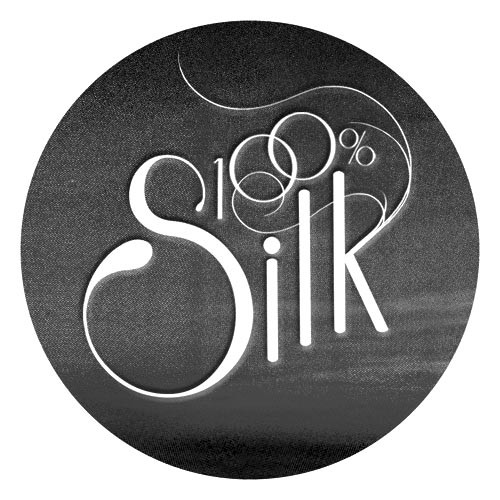 An Introduction to Dance/Rock Label 100% Silk
Most dance/rock crossover attempts over the years have been pretty depressing. Some results include crappy big beat with guitars over it, "electroclash," and other general failures. Sometime recently, though, there has been a change in approach. Instead of half-assed or ironic attempts, it seems that artists and labels whose roots lie in rock music of various types have been studying quality underground dance records and their production techniques and are now putting them to good use. One of the best examples right now is a label called 100% Silk. Started as an offshoot of the Not Not Fun label, whose idea of rock already included plenty of electronics and other oddities, 100% Silk delivers more or less straight-up dance music across a variety of styles. With four releases out already, it's the perfect time to assess their approach.
Ital: "Ital's Theme"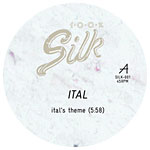 Ital is the artist behind the debut 12". Perhaps better known as Daniel Martin-McCormick, originally of Dischord band Black Eyes, he is also currently the singer for Mi Ami. The evolution of Mi Ami is interesting as well—it began as a noisy, screechy rock trio united around dubbed-out Afro rhythms, but the departure of bass player Jacob Long has seen them transition into a very house music-based live show complete with 707 and frenzied synth playing instead of guitars.
On the Ital record, however, Martin-McCormick takes things deep. "Ital's Theme" wouldn't have sounded too out of place in the post-disco, pre-house era where home-made Italo disco and boogie instrumentals began laying the foundations of electronic dance music. Repetitive, hypnotic synth melodies are revealed in layers, building upon the simple drum loop without ever going over the top. Restraint is also key on "Queens", which utilizes pitched percussion and sub-bass to propel itself, with weird effects modulating timbres from time to time. This one would feel at home in sets of adventurous deep house deejays, with pitched drums giving off some tribal vibes (though not in a cheesy manner). The EP closes with "One Hit," which resembles "Ital's Theme" in its melodic layering. 707 drums reference jacking Chicago house without sounding derivative, and the chords and melodies become almost uplifting. This EP could certainly have come out on a dance label like Mathematics and no one would have assumed it was made by someone who was not primarily a dance music producer.
The Deeep: "Muddy Tracks"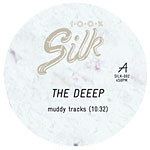 12" number two is delivered by The Deeep, whose only other release as far as I can tell is a cassette-only joint on Not Not Fun. Here on this record, an affinity for dub music is very obvious. "Muddy Tracks" is a slow, bass-heavy, and lo-fi version of dub, with a female singer who alternates discernible lyrics with wordless vocalizations, perhaps in a nod to the Cocteau Twins' Elizabeth Fraser. An extended breakdown washes everything out into a cacophonous swirl before the beat and bass lumber back to life. On the flip-side, "Mudd (Grand Am Version)" adds echoed-out guitars to an 808 groove for a more straightforward dub track. Snippets of rhythm and sound effects are sprinkled in throughout the 9-minute piece, with a guitar and melodica breakdown highlighting an arrangement that stays captivating. Guy Dallas finishes the record with his take on "Mudd," which adds disorientingly panned vocals and brings the melodies upfront, taking the track towards the Middle East in just a short two-minute remix. While this release is not much in terms of dancefloor fodder, it is exquisitely beautiful and distinctive, with the extended nature of the original tracks giving each element plenty of room to breathe.
Cuticle: Confectioner Beats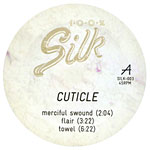 Cuticle go in a different direction for the third record on 100% Silk. Instead of the long, drawn-out repetition of the first two releases, a total of six shorter tracks are assembled into an EP entitled Confectioner Beats. If pressed to assign these to a genre, "dreamy abstract techno" would have to be it, with a nice helping of lo-fidelity thrown in for good measure. Easing in with the ambient "Merciful Swound," Cuticle keep things loose and shifting. "Flair" rides a consistent dance beat adorned with a wobbly bassline and soaring arpeggios before "Towel" breaks things up with wah-wahed synths, a drunken stomp, and what could be wigged-out guitar. It may sound like a mess on paper, but it is the exact right kind of mess.
The record is highlighted by "Approaching Global / Serenety's Sequel", which is an epic tune that easily glides from distorted synth melodies to a powerful wall of washed-out synths that then proceed to slowly decay into the ether. "Shrine" is more straightforward deep techno, while "Nurbs" takes the percussion a bit more glitched out and eases up on the heavy beat. This release is a good example of someone taking the sounds of techno and adding a healthy amount of experimentation without going too far off into the stratosphere. I'm reminded of some of Aphex Twin's early melodic work at times, without the smugness that permeates his work.
Maria Minerva: "Noble Savage"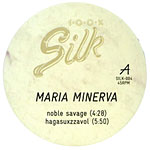 Maria Minerva, another Not Not Fun artist, deviates from her usual dreamy pop music on the fourth and most recent 12" on 100% Silk. Tempos are raised, disco breaks are jacked, and dancing is done! The most overtly dance jam on here is "Disko Bliss" which makes good use of the drums from "Is It All Over My Face" along with Ms. Minerva's plaintive vocals about going to the disco on her own. "A Little Lonely" takes similar elements, but crafts a different feeling from them. Detuned synth pads add psychedelia to the mix, and despite the title the vocals are more upbeat. If Blondie had been making records in their basement on a cassette 4-track, this is what they would have sounded like. "Hagasuxzzavol" feels like a lost Massive Attack demo circa Blue Lines, while "Noble Savage" injects an undecipherable sampled spoken voice-over to the electronic tribal drums and instrumentation. Of all the 100% Silk records thus far, this one has the most pop appeal. The vocals, despite being coated in a thick haze, give each track a solid hook.
The overall effect of 100% Silk's releases thus far reminds me of the records that came out of New York's downtown scene in the early 80s. This was a time where disco, funk, punk, dub, hip-hop, electro, and experimental music all collided. People using similar equipment made many different sounds that all worked together. Right now, this music can cross over heavily with lo-fi rock as well as dance music, though it is definitely for a more adventurous crowd. This may finally be the connection that allows dance to regain popularity in the U.S. without being reduced to least-common-denominator nonsense.
Interestingly, some of the rock scene cats that I've talked to about their new-found interest in real dance music have name-checked NYC's DFA records as the catalyst. While DFA has headed more and more into straight-up house and techno, it has left rock crossovers in the hands of people with a better breadth and depth of knowledge in dance music. For me, this is one of the most exciting developments in underground music I've seen in a long time. Add the efforts of other artists like Blondes, Teengirl Fantasy, Beautiful Swimmers and Protect-U (who are also close with Daniel Martin-McCormick, hailing from the DC hardcore scene), and it seems that there are a wide variety of quality sounds being made—from live to electronic—hitting ears that are more tuned-in and wide-open than ever before.