Rush Hour Recordings, 2011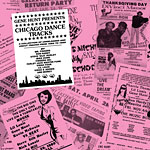 At its beginning, Chicago house music was not a commercial product. Young artists recorded tracks to tapes which they distributed to their favorite local DJs. Some DJs carefully guarded these tracks, but others would get together to swap (by dubbing) the latest hits. When the first record labels got up and running, after the success of Jesse Saunders' "On and On," they encouraged artists to enter the studio to record more radio-friendly mixes. Often the original club versions were never released.
Needless to say, determining authorship of tapes tucked away for the past twenty-five years must be difficult. Rush Hour Recordings is brave to jump into the fray, releasing a 4-LP collection of material from Gene Hunt's collection. It's great to be able to acquire some of the tracks I identified as "unreleased" in my Ron Hardy playlists three years ago.
First up, Virgo Four's "The Dryer" is in the same vein as their Resurrection material with intricate drums and glassy melodic synthesizer. Its production values stand above most of the rest of these tracks. "You're Mine vs. Destination (Zernell Gillie's Rework)" credited to Larry Heard vs. Marshall Jefferson, is raw and weird. Snippets of "Love & Happiness" repeat over a loop of "Your Mind (Passion)," a track that has previously been attributed to Robert Owens. I prefer the mix Kstarke unearthed on Warehouse Box Tracks. Gene Hunt's rework of "Donnie," credited here to Fingers Inc. (instead of The It), is equally strange, burying Ron Hardy's mix under a loud, artificial beat.
Mr. Fingers' "Finger Fuck" is a real discovery, though. Messy snares contrast with a hard techno bassline which occasionally doubles up and spirals off. Cold synths sing, and there's a glorious organ solo halfway through.
"1015" by Dion Wilson & Tony is nice if a bit simple. I wonder if this is the same Dion Wilson who produced for Common. The use of treble reminds me of Hieroglyphic Being. Mike Dunn's "Gherkin Aftermath 909" is a nasty acid track that sounds like it's from the era of "Magic Feet."
Moving into modernized mixes, it sounds like Gene Hunt added a new bassline to Farley JMF's "Yes He Saved Me." Still, it is hypnotic in its way, especially when UFO sounds join in near the end. Farley Keith Williams' "JMF Groove" is a quirky little number with Italo roots. "Super Crash (Tribute to Lil' Louis rework)" by DJ Cease is an unnecessarily sanitized "Video Crash" which makes you appreciate how great the original version is (whomever its author may be).
A few of these tracks were available previously. Steve "Silk" Hurley self-released "I Don't Know" (aka "Shooting Stars") in 2000 on Dubs from the Dungeon Vol. 1. Craig Loftis issued a version of "Yes It's Right" digitally last year. Finally, the dub of Ron Hardy's "Sensation" (which Vince Lawrence says he worked on) was released unofficially on Kstarke's Warehouse Box Tracks, also last year. All three are favorites of mine. The Loftis track sounds almost New Wave, while the Hurley one seems like an early version of "Music Is the Key."
There are a couple of vinyl-only tracks in Rush Hour's set, including "Trust" by Virgo and Adonis (which Partehardy Records unofficially released in 2006) and "Betsy Smithe" by Steve Poindexter. They are both worth having. The former is like Sleezy D.'s "I've Lost Control" while the latter contains a massive beat. Conspicuously absent are any early versions of Gene Hunt's "Living in a Land."
So the truth is finally out, Chicago house music was not all vocal tracks and disco remakes. In fact these raw original productions are what drew me back to house music in the first place. Here's hoping more old-school producers take the opportunity to share legitimate early recordings before interest wanes or these tapes further decay.