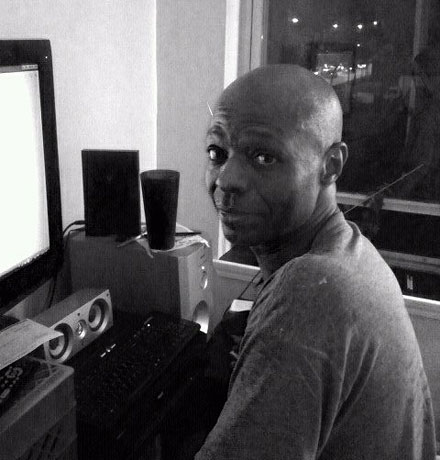 DJ at Club LaRay, Rialto Tap, the Clubhouse, and more
Few Chicago DJs have had a career as long and varied as Michael Ezebukwu (52). While he is best known for spinning at Club LaRay and Rialto Tap during the house music era, Ezebukwu started out in Chicago's discos in the late seventies, when there was a vibrant gay African-American scene.
Ezebukwu grew up on the South Side, attending Holy Angels grammar school and St. Ignatius College Prep. As a teenager, he would take charge of the music at his friends' parties.
Ezebukwu began studying radio and TV broadcasting at Columbia College in 1977, and it was then that he discovered the disco scene. He recalls, "I think the first club I went to was Den One. It was over on Wells, and I was just amazed about the sound system and then the music. You know that was [my] first time actually hearing a DJ mix records and just hearing the music continuously flowing."
The DJ, Artie Feldman, used double copies of songs to create his own arrangements. Ezebukwu explains, "It was very intense. It was a lot of new stuff coming out at the time, just like 'Love in C Minor,' and the 12-inches started coming out. Double Exposure, I think they were hot on the scene—they were just starting off."
Another inspiration was DJ Peter Lewicki. Ezebukwu recalls, "He used to spin at Alfie's and another club, Le Pub. He used to play at Le Pub on Thursday nights. It was a discount night, but a real nice crowd. He was the first DJ I heard that really just fascinated me with blending, because his blends were so harmonious…. I would hear him do mixes, and I would go home and practice and do the same mix. That was one of my most important influences."
Ezebukwu reminisces, "Back then Chicago was full of clubs. It was Den One; it was the Ritz; there was Le Pub, Broadway Limited, Blinkers. That's just a short list. Robert Williams [and US Studio], they had the Warehouse. There was another group called The Bowery. A guy Lonnie Fulton, that passed, he had a place, Social Sounds, 178 W. Randolph. And then there were places like Sauer's, which was a restaurant near 22nd St. that folks were just doing parties there. Then the River's Edge and Ron Briskman's Hideout."
In May, 1977, Michael Ezebukwu started DJing at Private Sculpture Room, 6403 S. King Dr., which he describes as "a step up from a hole in the wall." The previous DJ stole the equipment, so Ezebukwu had to bring his own.
Ezebukwu explains, "I had learned somewhat how to mix but I wasn't accurate as far as mixing on the right beats and stuff. But the crowd still partied. It was a minister who used to come down—he had a church, and he used to hang out there, and he was also a musician…. He pulled me to a side to explain, 'The music and everything is nice and the energy is nice. But,' he said, 'you're mixing a 8-count on a 16-count on a 32-count with a 4-count…. You know, you just need to work on that.' So I went home that night and I just started listening to songs, and then I started counting the beats of the music and I started seeing a pattern.
"And then I was playing an Emotions song, 'I Don't Want to Lose Your Love,' and I was counting the beats, and I counted all the way up to a 54-count, and then in the middle of the song the beginning came—the song started to repeat and I started to see the actual format of music as far as how the beats are arranged and how long the vocals are and the choruses and this, that, and the other. And I started seeing the magic of how it was all a pattern, and I was able to manipulate the pattern."
After that moment of epiphany, Ezebukwu's skill increased. His next club was Jeffery Pub, 7041 S. Jeffery Blvd. The previous DJ, Bill Alexander, was moving out to L.A. to play at Catch One (where he would lure Ron Hardy after Den One closed), but he had seen Ezebukwu spin at the Sculpture Room. Ezebukwu describes Jeffery Pub as a "nice, finished club" with a new dancefloor, DJ booth, and lights. The crowd was gay and mostly male.
Ezebukwu spun at Jeffery Pub from August, 1978 to 1980, but he was fired for playing too loud. Ezebukwu can laugh about it now: "The owner said, 'The space is just too small for you.' He said, 'You need to go to the North Side to get a bigger club. 'Cause… the neighbors are complaining across the street about the music and we can't pay for these speakers!'"
Ezebukwu took a couple of months off, enrolling at DeVry and checking out Detroit's clubs, before landing a gig at Martin's Den, 5550 S. State St., in August, 1980. After just three months Ezebukwu left Martin's Den for the Gazebo. His fourth night on the job, he walked up to a burnt-out building.
Ezebukwu managed to "crawl back" to Martin's Den, but he had learned his lesson. When he secured a Tuesday night spot at Dingbat's, 247 E. Ontario St., in January, 1981, he retained his weekend gig at Martin's.
In the end, Ezebukwu got in a conflict with the owner of Martin's Den. Ezebukwu explains, "If he told the story, he fired me, if I tell a story, I walked out." Luckily, Ezebukwu was able to switch places with DJ Nick Lewis at the Rialto Tap, 14 W. Van Buren St.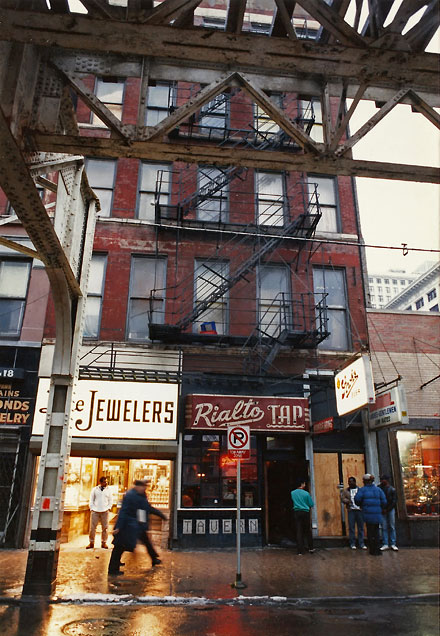 Ezebukwu spun at Rialto Tap weekends and at Dingbat's weeknights until the fall of 1981, at which point he just worked at Dingbat's.
One of Dingbat's bouncers was Mr. T (pre-Rocky III and "The A-Team" fame). Lil' Louis held "Sunday Night Punk Out" parties there around 1983. Ezebukwu recounts, "Lil' Louis was amazingly fast. I used to sit up and watch him spin. He could go between two records and just mix so fast, and he could just hold one beat back and forth and just hold it endlessly. After watching him I would come down to Dingbat's early and practice for hours trying to get speed that would match him." Somehow Ezebukwu managed to squeeze in some nights at Eddie Dugan's new club Paradise during this period as well.
A month after Dingbat's closed in October, 1984, Ezebukwu went back to Rialto, staying on until it closed in October, 1990. He took over as head DJ in June of 1985. The music was "a real cross-section of everything." Ezebukwu recalls, "We would play a little rock, we would play a little pop, R&B, soul, jazz. It was a very nice mix because the crowd used to migrate and visit a lot of different clubs back then, so the music was a lot more diverse. And then at Rialto we would play from 6 in the afternoon until 4 A.M." Even though the bar could only hold 250 people, Ezebukwu says, "Rialto became known all across the country, because a lot of gay people coming into town, that was the first stop. That was also kind of like a pick-up bar, too."
Ezebukwu describes the Rialto Tap decor as "traditional-looking" with "an imitation Tiffany light" and wood paneling on the walls. The DJ booth was originally behind the bar. Ezebukwu remembers one night when a fight broke out and a can of beer hit the mirror in front of him, falling on the turntable. Admits Ezebukwu, "It was wild in those early days." Over the years, the interior was upgraded. Ezebukwu says, "They painted and took the paneling out and put in mirrors. It still had a raunchy feel, but it was a lot cleaner."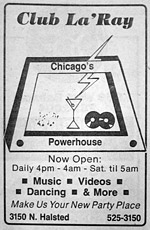 While he was still at Rialto, Ezebukwu started spinning at Club LaRay, a much larger club, when it opened in May, 1986. Ezebukwu says the building, at 3150 N. Halsted St., was a theater at some point before turning into a Community discount store. Next it was a white gay club called Trianon, and then it became Club LaRay. (It has since been demolished.) The club had a triangular bar and twenty-five foot high ceilings. The DJ booth was over the front door, and walled-off stairs served as a stage for Tuesday night talent shows. Ezebukwu says, "There was a drag show, people doing comedy, singers…. Phyllis Hyman wound up coming and hanging out one evening."
According to Ezebukwu, the crowd was diverse: "It was primarily a gay bar, but a lot of straight people came…. A lot of folks that used to go to the Music Box with Ron Hardy on Saturdays, they would come down to Club LaRay on Tuesdays and Fridays…. We used to receive a lot of material, like from Chip E., material from Vince Lawrence, K-Alexi…. a lot of upcoming house music artists…." K-Alexi even contributed an exclusive "Welcome to Club LaRay" track.
The late Michael Fields was head DJ, doing Saturdays, Mondays, and Thursdays. Ezebukwu spun Sundays, Tuesdays, and Fridays. The place could get packed. Ezebukwu recalls, "On a crowded night, I think we hit close to eleven-hundred people for a New Year's Eve. Between five to seven-hundred people for a Tuesday night or a Friday night or a Saturday night."
LaRay's manager was Ray Hill. According to Ezebukwu, whenever a fight was brewing, Ray would get on the mic and yell, "You don't kick this shit in my club, and if you don't like it, get the fuck out!" He would end his speech with, "My name is Ray. I am Club LaRay." Ezebukwu remembers, "That used to really send the crowd over…."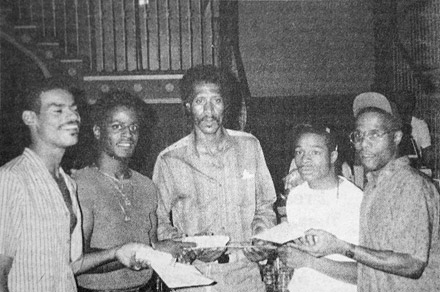 Club LaRay inherited its sound system from Trianon, but according to Ezebukwu it needed modifications for an African American crowd, which required "more bass." He was allowed to re-wire everything with additional subwoofers and a crossover. Ezebukwu fixed up the light system as well, replacing switches on the control board and purchasing flash bomb pyrotechnics that burst from the high ceiling.
In the spring of 1989, Ezebukwu was fired from Club LaRay for being late right after an employee meeting regarding attendance. Ezebukwu thinks he "probably would have wound up coming back to Club LaRay had Club LaRay continued to remain open," but three months later it closed.
Ezebukwu decided to re-focus on Rialto Tap. He started a talent contest Monday nights with bar tab prizes. After the first few weeks, nobody wanted to enter the show, so Ezebukwu awarded second and third places to the first people to walk across the stage. According to Ezebukwu, "Then people just started coming every week 'cause they knew we would have prize money. And then a couple of drag queens, Erica Renee Christian and Sylvia Ross, they would come down, and one week Erica would win first place, Sylvia would win second place. Next week Sylvia would win first place, Erica would win second place, and they'd do that for about a month."
Ezebukwu laughs, "They wouldn't even tell other drag queens about the show 'cause they thought it was just a nice lick. Afterwards some of the drag queens started fighting it out, and they started coming down on Mondays to perform and get the prize money. We started charging a dollar at the door and we raised it up to $50, $15, and $10 bar tab. And the crowd got bigger. And then eventually a host that used to do shows at Club LaRay, Tasha Thomas, she came and saw the crowd was so big, and she started hosting shows…. We had the shows late because a lot of folks used to go skating up at Rainbo Roller Rink [sic] up on N. Clark."
Unfortunately, the block where Rialto Tap was located (featured in The Blues Brothers as the location of Elroy's doomed apartment) was scheduled to be demolished to make way for the new Harold Washington Library and a park. Rialto's owner, Gene Boris, purchased Club Flamingo at 440 N. Halsted St. and tried to make a second Rialto, but it didn't draw a crowd. Boris made a deal with Sam Davis, the owner of the Clubhouse at Halsted and Clark, to take over the space Labor Day of 1990.
Davis gutted the old club of pink plastic flamingos, extended the dancefloor, and created seating booths. The floor was freshly carpeted and draperies were hung over the bar. According to Ezebukwu, "It was one of the more sophisticated Black gay clubs that opened up," and "it was a big success from day one."
There were two floors, and Ezebukwu's friend Drell Tyler spun downstairs. Then in 1993, a new club called the Generator opened nearby, taking much of the Clubhouse's business. The Clubhouse became a comedy club called Jas'mns Jokes on U. Ezebukwu continued hosting talent shows with a dance party Monday nights. Eventually the club went through more name changes, from Tulum to Stardust to Rednofive.
Finally, Ezebukwu DJed for Tracy's Club Intimus parties at Cafe Bacettis, 312 W. Randolph St. In 1999, that restaurant closed, and Ezebukwu's mother became ill. Ezebukwu says, "I took a break… to see if I would get the bug to want to start spinning records." It took seven years.
In 2006, Ezebukwu returned to the scene with a party at the now-defunct club Four. Most recently, Ezebukwu and Rodney Perkins had a Thursday night party called Back 2 Life at Pasha Restaurant & Lounge. That ended in April. Ezebukwu would love to throw a party to celebrate the twenty-fifth anniversary of Club LaRay's opening.
Describing his DJ style, Ezebukwu says, "I've never been one to like just one type of music. I think that a lot of different types of music just have impact and have some kind of soul. When I say soul, just some spirituality. Just something to awaken something inside of you. Just to make you move."