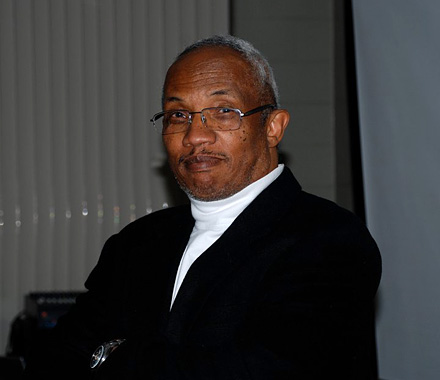 Zorine's, owned by Chicago restauranteur Arnie Morton (of Morton's Steakhouse fame) and named after his wife, was Chicago's Studio 54. The wealthy and famous paid a hefty initiation fee of $425 plus annual dues of $75 (in 1978!) to experience its luxurious atmosphere. In a Tribune article from the period, Jack Hurst describes "chrome stalactites" hanging from the ceiling and a glass dance floor lit from underneath by "rows of small lightbulbs continually flashing in random combinations." Hurst name-drops Dionne Warwick, Carol Channing, Phyllis Diller, and Ernie Banks. National Geographic even included the club in a feature on Chicago.
In the midst of it all was Chicago DJ Sim Garrett, now 69, who started out spinning soul at bars on the South Side. Garrett's story encompasses everything from sock hops and variety shows to discos and hot mixing (a skill he never mastered), showing that DJs have always been an important part of Chicago nightlife.
Garrett grew up in Bronzeville on Chicago's South Side. One of his earliest memories is running to the window to see the sky filled with World War II planes on maneuvers, presumably from the Glenview Naval Air station.
Music was always a large part of Garrett's life. He explains, "One of the things I said when I was a kid, I wanted to be a disc jockey or a music teacher." In junior high, his teacher was Lena McLin, who later taught R. Kelly. Garrett recalls singing pieces by Haydn, Handel, and other classical composers. In high school, starting around 1959, he spun records on a home stereo for sock hops at the Jackson Park field house. Hits included Chubby Checker's "The Twist" and singles from The Miracles.
In 1961, Garrett graduated from Hyde Park High School where he sung in and was president of the a cappella choir. After graduation, he worked a post office late shift until 11:00 p.m., then spun records until 2:00 a.m. at a club where Muddy Waters played. Garrett and another DJ split $15 a night.
Garrett next spun at the Zombie Lounge on 75th St. and Langley Ave. In 1966, he entered the service where he sang in a Special Army Band. Garrett explains, "We were like little Army rock stars, and we would go to different camps and entertain troops. Probably saved me from going to Vietnam."
Herb Kent and High Chaparral
In the early seventies, Garrett DJed for radio host Herb Kent's parties at Green Bunny Lounge, the Peppermint Lounge, and the Red Top. At the Peppermint Lounge, he remembers meeting musicians like Al Green and The Spinners. One night at the Red Top, the heat was broken and Garrett warmed his hands over a tube amp.
For a time, Garrett M.C.ed at High Chaparral on Stony Island. Each night was a variety show, with a comedian who specialized in "dark" (dirty) jokes, and acts like the Jackson Five and the Chi-Lites.
By 1975, Garrett started spinning downtown. He admits, "I was pretty well known… you've heard of the Excalibur, right? Well, as far as I know I was the first disc jockey to play at the Excalibur. There was nobody there, though. Nobody knew anything about it. There was maybe fifty, sixty people at that big place…. The attitude of people at that time, they liked staying close to home, going around the corner to the bar or lounge. It wasn't popular at that time to go downtown like they do now."
Next, Garrett played at the Golden Fork on Kinzie St. behind Merchandise Mart. He was there for just over a year as the scene started to pick up. Garrett enthuses, "That was real popular. People started coming downtown, and we had really good response." He remembers Charlie Green, inventor of The Bus Stop (a variation of the Slide) coming in to dance to People's Choice "Do It Anyway You Wanna." One night Sister Sledge stopped in. The club hired "a real pretty girl" named Toni to take photos of club-goers in their fine clothes, which they would project on the wall a few weeks later. Garrett spun at a restaurant called the River's Edge around this time as well.
Zorine's
A manager at Zorine's heard Garrett spin at one of his regular haunts and set him up to interview with owner Arnie Morton. Garrett is still amazed it happened so fast. "Me and Arnie Morton, and I was the disc jockey two and a half years at Zorine's!"
At Zorine's, Garrett would begin each evening playing "Car Wash" by Rose Royce. As he welcomed the guests on his mic, the waiters and waitresses would come out on the floor and dance. Garrett describes a varied playlist: "It wasn't all just disco, because it was a mature crowd…. There was Frank Sinatra and things like that. It just wasn't Black music, it was white music too…. You get people to go out and have a good time."
One night Diana Ross came in. Garrett put on "Love Hangover" and came downstairs from his balcony booth to introduce himself. He remembers, "She said hello and then she turned her head to somebody else like, Go away…. That's not too cool."
Other celebrities were friendlier. Jackie Gleason, for example, who, besides being a comedian, actually produced easy-listening music for a time. Garrett explains, "I don't remember how I even had his music, but I had it. I played a Jackie Gleason cut and he looked at me, I mean I can still see his face lookin' at me, and he put his hand up there and waved and said hello or thanks or something like that. That really blows my mind."
Garrett also remembers seeing Barry Manilow and sports stars Billy Williams, Artis Gilmore, and Walter Payton. Then there was Bette Davis: "Woooh, my God! I remember my mother used to love Bette Davis, but this lady would smoke, smoke, smoke that cigarette. My goodness!"
Mostly, however, the crowd consisted of doctors and lawyers. Garrett recalls seeing Morton's son, Peter, who had just opened the first Hard Rock Cafe in London. "I can't tell you all the money that was there. There was crazy money."
Zorine's decor included a Lucite piano, a half-moon dance floor, and a wall of mirrors. Sometimes there were private parties. Garrett recalls, "I was the disc jockey for the Playboy twenty-fifth anniversary…. They kept their clothes on. I mean, they were all dressed, nobody goofy in bunny suits or nothing like that…. But I was upset, because I heard the people that came through the door, they all got lifetime subscriptions for Playboy…. I didn't hear nothing 'til later. Thanks a lot Hef! I didn't buy one Playboy after that. I was like, 'That's it!'"
While Garrett used two turntables like a radio DJ, he admits he, "Didn't do any hot mixing." As tastes shifted, attendance began to decline. Garrett suggested to the manager that they bring in a comedian and professional dancers, but Arnie Morton wanted to capture a younger crowd. Zorine's replaced Garrett with hot mixer Frank Lipomi from Dugan's Bistro, a popular North Side gay club. According to a Billboard article from May 19, 1979, Morton tried to draw an after-hours crowd with a cheaper membership rate between 11:30 p.m. and 4:30 a.m. Nevertheless, attendance continued to decline. Morton ultimately converted the club into a seafood restaurant, La Mer, in 1981.
Garrett continued to be active in music, working for radio stations WGCI-FM Chicago, WJTW-FM Joliet and WAUR-FM Aurora in the early 1980s. The entire time he also had a day job at Commonwealth Edison that he started in 1968. Garrett retired in 1996 and settled down in Lisle, IL, where he does mobile DJing. "I wish I had this equipment 30 years ago…. I have about 65,000 songs. I have about 800 music videos. What I do, I can play if it's cocktail hour or dinner hour, 'cause I do a lot of corporate things like that; I'm playing Frank Sinatra or Tony Bennett. If you really wanna party hearty, go ahead and put the Black Eyed Peas on, all music videos. I've done parties where it's all music videos song by song by song by song."
Garrett admits, "The parties are far in-between." He continues, "Hey, I've done that, been there, I'm not interested in being the hot jock of the week. I got my two cents in. It's a new day."
Asked about the Disco Demolition Night riot at Chicago's Comiskey Park in 1979, Garrett giggles. "It kind of reminds me of today's Tea Party, to tell you the truth…. They just can't cope…. It's really funny when they did that, and they really didn't kill disco. Disco kind of evolved to something else anyway. It didn't go anywhere! It didn't go anywhere."
Note: Simuel Garrett III passed away January 7, 2020 at the age of 78.