Disco Nihilist: It's Grim Up North
Construction Paper, 2010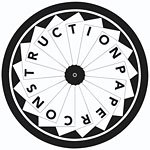 It's finally time for another dope record from Disco Nihilist. "Restlessness" had a martial snare and hard techno keys. "Relentlessness Drums" is even more old-school. It would fit right into an old Ron Hardy mix.
On the flip, "Quit While You're Ahead" is more mysterious than most acid. The bells and bassline evoke time-lapse photography. "You Never Leave Your Room" is bare bones and hard. The tracks seem perfectly pared. This is a functional, timeless record.
Hieroglyphic Being: The Heliocentric Worlds of Hieroglyphic Being Vol 1
+ + +, 2010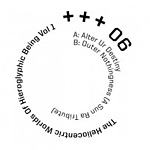 Another month, another Mathematics-related record, but I can't say I don't love it. "Alter Ur Destiny" is crazy long and mercilessly gritty. A loop of phasers is joined by an acid line that doesn't even seem to go with it, yet somehow it works. About half-way through layers drop away for some Adonis-alike 303 programming, then it all builds back up effortlessly. "Outer Nothingness (A Sun Ra Tribute)" is a little more complex than the usual Hieroglyphic Being production, but not by much. Smattered notes don't seem to follow any real chord progression. Despite a veil of distortion, there's something quite innocent about it all. For even more tasty Hieroglyphic Being tracks, be sure to check out "The Sun Man Speaks" CD-R that was released late last month.