Ai Records, 2006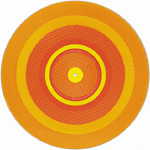 This latest compilation from Ai, set for release March 6, will be available on CD or as a 12-inch picture disc limited to 600 copies. It features eight newly signed artists, most of which are complete unknowns. Rootsix contributes "Just One of Those Things," which has an old-school house feel. Filtered synths and a barely decipherable sample barrel along to a dance beat as the track builds. Biologic's "Crystal Violet" is more downtempo and IDMish. Bleeps, clicks, and snares accompany a sweet melody. "Triangulation" by Pathic features thick bass, airy electronics, and textured percussion. It's a good combination.
My favorite track is the melancholy "Telphasic Céphalée" by Tomcats in Tokyo. The repeating, swirling pitches that kick it off remind me of early µ-ziq. Complex beats and a drone steal focus towards the end, then there's a crescendo of noise. Finally, Bleep43.com co-founder Plant43 contributes an electro-esque track that's closer to the traditional Ai sound.
This sampler seems to signal a move from simpler, straight-forward electronics into DSP-based material. Neither style can really be called experimental these days, but I do appreciate a wider palette. I'm looking forward to first releases from all of these artists.