Warp, 2006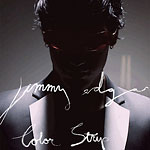 Edgar's first EP, Access Rhythm, was a fun take on hip-hop; however, his second EP, Bounce Make Model, was clubby and superficial. Unfortunately, Edgar's first full-length expands on the latter EP's pop dance style. "Pret'a'porter" serves as a suitable intro, with repetitive synths and a burbling vocal sample. "My Beats" and "I Wanna Be Your STD" both feature embarassingly juvenile lyrics presented in monotone vocoder. Egyptian Lover this man is not.
It's not all bad. "LBLB Detroit" is another track from Edgar's 2004 EP. It's got a decent groove with broken beats and Edgar's typical synth sounds. "Personal Information" sounds like it was ripped from the eighties. It's a fun (if simple) tribute to old dance music. "Telautraux" demonstrates (to paraphrase a Luke Vibert song) "what it sounds like when one speaks through a ring modulator." "Hold It Attach It Connect It" might have found a home on Metroplex twenty years ago, although its beats are a bit weak. The chorus of "Color Strip Warren" reminds me uncomfortably of the auto-tune effect on Cher's "Believe."
On an intellectual level, I appreciate that Edgar is paying tribute to early house and techno, but I wish he'd added some of his own ideas. These tracks need some twist to take them to the next level. Otherwise they just sound old without being classic.