n5MD, 2007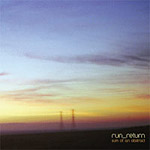 Run_Return is the post-rock, almost jazzy output of duo Kevin Dineen and Tommy Fugelsang based out of Santa Cruz, California. Immediately bands like Tortoise and Four Tet come to mind when listening to this record, which is never bad company. The album consists of tunes recorded between 1999 and 2001, but it holds up really well as a re-release.
Their sound palette mainly consists of strummed acoustic guitar, organ sounds, a bit of mellotron, twinkling percussion and a mix of snappy drum machines and live drum sequences, all sent through a fine digital tweak. The group switch up time signatures and moods very well, making the album enjoyable all the way through; I didn't hit skip once. The track sequencing in itself was very well done.
On "Wake Up" a chopped and digitally mashed guitar is looped with some snappy percussion skitters over it. A drone fades in and the guitar straightens out for a few bars before again collapsing into chop-suey. Bell like synths begin chiming and some electro zaps appear before the chopped acoustic reenters for the fade out. It's all very messy on paper, but in the headphones it all makes sense.
The album is a nice mix of sounds and expertly composed. It's a great record for a Sunday afternoon or a comedown after a late night. If you didn't get the album's limited first run back in 2001 then by all means check this re-release out on n5MD.