Basic Replay, 2007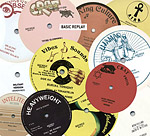 In recent years, Moritz Von Oswald and Mark Ernestus, the duo behind Basic Channel, have turned their attention to re-issuing rare and overlooked reggae. Basic Replay is their label for cherry-picked, mostly digital tracks, from late roots to early dancehall. This sampler compiles selections from the dozen 12-inches released so far.
First up is Ackie's "Call Me Rambo" from 1986. It perfectly captures the spirit of London dancehall, with its off-kilter keyboard and Commodore 64 helicopter effects. If you like the style, track down Honest Jon's Watch How The People Dancing for a great sampler of the scene. Next, Dave Kelly-produced "Trying To Conquer I" and "Fight The Professor" are slick productions sharing the same riddim with rolling bass and stuttering synths.
The highlight of this collection is undoubtedly Ijahman Levi's "I Am A Levi." This incredibly rare original version (the track was re-recorded for Island) is the smoothest, most powerful roots reggae you'll ever hear. Levi apparently laid down the vocals in a single take shortly after being released from a brief prison stint in 1974. It is accompanied by a wild instrumental version. According to Basic Replay's notes, "Over decades, Shaka would on special occasions unleash the staggering dub—with its foghorn effect…." It sounds like a mechanical scream.
This is followed by a stripped-down dub courtesy of King Tubby and crew, the flip to Barry Brown's "Nice Up The Session." Then it's back into digital territory for a set of dancehall: Courtney Melody's "Black Liberation" from Brooklyn and Tenastelin's "Burial Tonight" from London, both with accompanying versions. "Hunting" the short intro from Keith Hudson's Flesh of My Skin Blood of My Blood album is included here too.
Another favorite, Jackie Mittoo's "Ayatollah" is downright spooky, with unearthly keys, heavy reverb, and angelic female vocals. Gregory Isaacs' "Dealing" is much more light-hearted with some odd digital effects. I wish Ken Boothe's "Memories" had been included as well. Wrapping up the collection are two catchy tracks with falsetto vocals and great basslines: Andrew Bees's "Militant" and White Mice's "Nothing Never Done Before The Time." Prince Jazzbo's "Replay Version" is in a category all its own. The effects are insane, with warped bells, stuttered snares, and skittering lightning bolts. It's a reggae space western soundtrack from the future. Essential stuff.