Quietus, 2007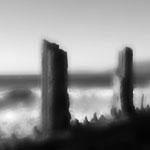 Bvdub sprang on the dubtechno scene last year with two excellent digital EPs courtesy of Night Drive Music/2600 Records and one 12-inch on Styax. Now he kicks off Quietus Recordings with a limited-edition CD-R. The EP is ambient, reminiscent of early Gas or of Rod Modell's recent Silentes efforts.
The first track, "Winter 1974," is nearly twelve-minutes long—plenty of time for its panning synth washes to sink in. The effect is quite relaxing. "Nothing You Can Say" has an early nineties feel with exotic vocal samples, shimmery beats, and smooth chords. There are no hard edges. "Dreams of Reykjavik" is like a shadow of the previous track. Beats and echoes are spaced out just so. On "Somewhere Far Away," analogue synthesizer pulses of a single note reverberate and dissolve before the rest of the chord finally forms. The middle section, with fuzzy distortion and a plodding beat seems almost unnecessary.
While the sounds here are not completely new, the compositions are all well done. I expect to give these four tracks many late-night listens.