Prescription, 2009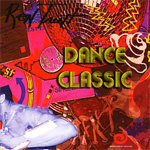 It's taken me almost two months to figure out how to review this album. Like all good house music, this is difficult to classify. Every time I listen, my opinion varies depending on my mood. That can also be a good sign. After all, music should provoke (or enhance) an emotional response.
Ron Trent is of course most famous for his groundbreaking track, "Altered States," and his label Prescription. He currently has a Wednesday night residency at a new Chicago club called The Shrine, and occasionally helms Africa Hi-Fi at Sonotheque. I'm still catching up to Trent's recent productions, but I just discovered his wonderful Cinematic Travels Ancient Future album.
This double-disc set is obviously meant to ride a wave of nostalgia for early house. From the years next to their titles on the back cover, I was afraid these tracks would be old demos, but while they may be inspired by the old days, they are definitely not stuck in the past. The music is soulful and not obviously loop- or sample-based. Live percussion becomes something of a trademark. On "Welcome '1984'" a bold synth bassline underpins jazzy piano and vocals that could be saying "you're welcome" or "your welcome." While "Hooked on Your Love" is labelled "1982" it has a modern R&B flavor. The production is silky smooth. I think I would like "It's Hot" better without vocals. There is some interesting synth work in the busy mix. Like a few of the other tracks here, this one was released as a single on Future Vision late last year.
"Sub Universe" provides a dedication poem over drums, mentioning "analogue memories" and "wooden floors sprinkled with baby powder." Assuming the sleeve is correct, the sixth track on the first disc is untitled, yet it is my favorite track on the album. At fifteen minutes, it builds slowly with evocative synthesizer sounds over precise but intricate drum machine programming. I think I can detect a hint of Theo Parrish's influence. The Moog definitely sounds live. Beautiful!
The second disc kicks off with a dark, catchy, uptempo version of "Woman." (I don't have the vinyl, but I'm guessing this is the "Africa Hi Fi Mix.") "Intoxicate" from the same single is wonderful late-night deepness. "City Beat" has been released before as well. Listen carefully to the percussion changes and the spacey electronics. There may be a reference to War's "City, Country, City" in there, too. "The Pressure" is quirky, but the vocals work really well. "My Computer" on the other hand is less serious (and perhaps even tongue-and-cheek). "Look Beyond" benefits from jazzy keys. There simply isn't a weak track.
The last cut is a heart-felt if over-the-top tribute to Ron Hardy. It features Harry Dennis (from The It and Jungle Wonz) and Cei Bei (from Diamond Corp.). From people I've talked to who actually danced at The Music Box, there seem to be mixed emotions about all the attention focused on "the legend" of Ron Hardy. I'll be the first to admit I'm an outsider, so while my interest may be objective, I will never know what the experience was truly like. The song singles out people who claim they were there but really weren't: "If you don't know a story, why tell it?" It goes on to list some of Hardy's favorite cuts. It's great to hear memories like these. Just don't forget to get out there to the parties happening now!
As with Theo Parrish's Sound Sculptures Volume 1, I may eventually regret giving this album only four stars. Make no mistake, it's wonderful listening, especially played clear and loud. I guess I just wish there were a couple of downtempo tracks to break things up and show more of Ron Trent's range. This is one album that requires you to be in a dancing mood.