Sound Signature, 2008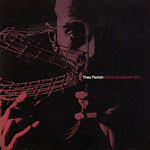 There's no doubt this double CD is a major work and an intense listen. Theo Parrish's deep house tracks range from sweet vocals and soulful instrumentals to gritty, repetitive loops. There are twenty-seven cuts, but a quarter of them are brief transitions. I already have plenty of favorites. "Black Music (I Love You)" is, as its title suggests, a celebration of Black musicians, with Craig Huckaby's spoken word referencing John Coltrane, Nat King Cole, Muddy Waters, Billie Holiday, Charlie Parker, and many others. "Nitedrive" is a deep midnight jam, with smooth synths and energetic snare hits. I love the way the track breaks down in the end. Although it's short, "Take a Ride" is a perfect combination of primitive drum machine, jazzy synths, and chanted vocals. Another highlight is "They Say," with MonicaBlaire's disjointed whispers punctuating a 3/4 beat.
Only a couple of first disc tracks strike me as misses. "Love Triumphant" is way too long for such a simple groove and what seem like preset sounds. "Stomp Yo Feet (Pt 1)" is a grating combination of lo-fi beats, wormy keyboard, and repetitions of the title phrase. But these are more than offset by the epic "Sundown Town." This one will make your head spin. Over a broken beat and a menacing vintage videogame bassline, a voice repeats, "How would you like to see how we live, the ninety percent of your fellow countrymen who have to get off your white streets at six o'clock at night?" Over the next nine minutes, the beat occasionally drops out. Dense layers of disjointed samples make for an uneasy ride.
The second disc starts with the DEMF hit "Goin Downstairs." Over a shuffling hi-hat-heavy beat with bass guitar noodling and synth responses, a man and woman repeat "I'm goin' downstairs, I'm goin' downstairs!" for a good ten minutes. It's a lot catchier than my description suggests. On "The Rink," soul loops are chopped into tasty pieces over new beats. Then Alena Waters asks, "Do you want to control me?" amongst playful keys on "Soul Control."
"Synthetic Flemm" and "Galactic Ancestors" are both stripped-down rhythm tracks reminiscent of house music's early days, though the latter gets jazzy at the end. "Usually Suspected" featuring Amp Fiddler is a rather odd piece. Its many elements, including piano, horn, and pounding bass drum, never really gel. "Second Chances" featuring more MonicaBlaire would be a killer track, but on my copy it's ruined by poor mastering—the first half is painfully clipped, then the volume drops noticeably. Thankfully, "The Interplanetary Gangster Edit" provides a smooth, joyful last impression.
Despite a few rough spots, this release is right up there with my other favorite Theo Parrish double album, Natural Aspirations by The Rotating Assembly. Both are likely to be future classics. With over two hours of music, Sound Sculptures is a commitment, but it's worth it.