Mathematics, 2009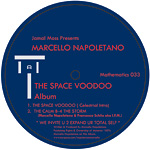 Mathematics continues to be the Chicago label to watch. This double LP, coming out in about a month, has been grabbing attention everywhere I play it. While the title track is a strange stew of burbling bass, muffled piano, and vocal warm-ups, "The Calm B-4 the Storm" with Francesco Schito (aka I.F.M.) is sweet and jazzy. Reedy synths and funky bass dance around echoey percussion. At several points a single note is sustained bar after bar. "Ottantotto" has that round Larry Heard synth sound. Piano and strings played live further suggest late-eighties house. "A Miles Man (Slowest Part 1)" is another highlight. Strings and vibes descend over chord stabs and snares. At the end, Napoletano samples an interview with an old jazzman describing Black music.
"Mood Jane (Black Keys & White Dust Rmx)" is quirky, with rubbery atonal electronics. The outro features an extended drum break with a little crowd noise. "My Brothers Soul" is a bit too harsh for my ears. Likewise, "Music Is 4 the People" and "I Hope That You Can Feel It" rely too much on repetitive vocal samples. "Somewhere in the Galaxy," however, makes for an affecting conclusion.
This is one of those albums where I sense that the artist enjoys the same old records I do. Half of the tracks stand out from the rest, bringing back the glory days when Chicago and Italo tracks shared the same dance floors.