Plop, 2007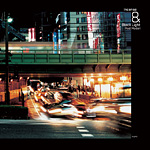 Rod Modell has come a long way since his ambient days. Incense & Blacklight contains some of his best tracks to date, even as he explores cold, uneasy territory. "Aloeswood" opens the album forcefully, revealing thick, crackly noise and currents of static. "Hotel Chez Moi" and "Cloud Over" both have a dub techno feel, with distant congos that remind me of Deepchord's HR-01. On "Hotel Chez Moi," synth stabs echo and pan as though they're inside a giant metal drum. "Body Sonic" is a welcome change of pace from Modell's minimalism, layering distinct, unusual synth sounds that burble along quite happily through subtle changes.
"Temple" is the only track to really throw me for a loop. Its high-pitched panning is borderline unpleasant. A speedy beat makes things even more nerve-wracking. The beginning feels like the moment in a science fiction film right before the monster attacks. "Ultraviolet World" experiments with huge washes of formless sound. Crackles and volume drops abound. Lo-fi never sounded so good.
"Subway" brings back a steady pulse and reverberating synthesizer chords over surface noise. Something about its sound palette is deeply satisfying. "Red Light" is similar but calmer and simpler, with a slow, low bassline. "Into Day" combines noisy drones with echoed synthesizer play. The tenth and final track, "Morning Again" is soothing and Philip Glass-like (in a good way) with a subtle looping vocal amidst a building chorus of euphoric sound.
This really is a fascinating album. Like Modell's Altering the Air (as Global Systems Silently Moving) from last year, the sounds are textured, dense, and often unsettling. The last half of the album is a journey from madness to redemption, yet it still manages to pack plenty of dub techno punch.