Burial Mix, 2006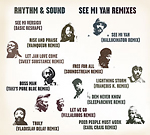 This CD, out at the end of the month, compiles four just-released 12-inches. Despite the big names, these mixes are hit or miss. Of course it's hard to improve on the already excellent source material.
Basic Channel themselves save the series, with a "Basic Reshape" mix in the tradition of their mid-nineties dubs. Burbling bass underscores a surprisingly recognizable version of the original rhythm. Soundstream's remix of "Free for All" takes cues from his disco edits. Vocal snippets and chord stabs are spread out over a house beat. Villalobos' version of "Let We Go" is pulsing stripped-down micro-dub. At ten minutes, it's rather self-indulgent, and it never really takes off. Carl Craig makes a masterpiece mix of "Poor People Must Work." It seems twice as long as it really is, with a gorgeous build-up and just a few stuttered samples of Bobbo Shanti's singing.
Tiki's mix of "Boss Man" is short and uninspired, but the Substance mix of "Let Jah Love Come" is an interesting re-interpretation, with a toy-like organ and emphasized vocals. François K is apparently on crack, with a drum and bass mix of "Lightning Storm" that speeds up Rod of Iron's powerful pronouncements. Likewise, Vladislav Delay's tentative house mix of "Truly" seems like an odd choice.
The Vainqueur remix of "Rise and Praise" is a nice, deep electronic dub. Sleeparchive turns "Dem Never Know" into something down-right creepy. Jah Cotton's deejaying floats and echoes in space. When old-school synths kick in, it sounds like the track was always meant to be like this. Finally, Hallucinator's remix of the title track takes syncopation to another level. There's a lot going on in the background, with dense layers of reverb and other dubby sounds.
I'm an unashamed Basic Channel completist, so it's no surprise I jumped on these records. There are several stand-out tracks here, even ones I would DJ with, but not all of the contributors live up to the quality I usually associate with Rhythm & Sound.