Burial Mix, 2005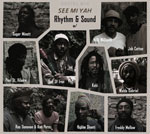 Rhythm & Sound's latest masterpiece was pre-released as a series of seven 7-inch records, but promptly surfaced in LP and CD formats as well. Mark Ernestus and Moritz von Oswald, the team behind Basic Channel, have concocted another catchy, bass-heavy riddim. Ten roots vocal versions provide surprising variety. Willi Williams' performs on the title track with melancholy nasal vocals revealing reality behind "the smile on yer face." Jah Cotton's "Dem Never Know" uses the same chorus with laid-back toasting over top. "Rise And Praise" with Koki drops the chorus but adds horn sounds to the mix for a haunting, thick arrangement. The powerful bassline is enhanced by additional synth syncopation for "Truly" featuring Freddy Mellow. He lives up to his name with a smooth, soulful melody that's so soft it's almost unmemorable.
Lance Clarke as Rod Of Iron has a distinctive voice that cuts through the stripped-down riddim for "Lightning Storm," where he muses about Babylon, pestilence, and plague. The chorus briefly becomes, "Pain and suffering!" This is one of the longest tracks in the series. Towards the end, Clarke chillingly implores, "Don't you dare touch my children, I say/don't you dare put your 'ands on them!/I will rip down your city with thunderstorms…." Sugar Minott's "Let Jah Love Come" uses a similarly minimal mix of the riddim, with a reference to the Love Joys' "Stranger Get Up" among his dark lyrics.
On "Boss Man," Walda Gabriel sings about more earthly problems, namely working without pay. It's one of the less distinctive cuts. This is paired with "Poor People Must Work" featuring Bobbo Shanti. Shanti's thick toasting is hypnotic if difficult to decipher. Occasionally he neighs like a horse. Ras Donovan and Ras Perez collaborate on "Let We Go," pairing spoken word with short bursts of singing. Horns and reverbed clicks rise to the surface halfway through. "Free for All" with Paul St. Hilaire (formerly Tikiman) is the lushest version, with guitar and added synthesizer beneath multiple dubs of his whispery voice. This may be my favorite cut, reminding me of Ernestus and von Oswald's early Main Street Records tracks. Finally there's the dub, which breaks the riddim down to its basic elements.
While Burial Mix has been fairly prolific with its series of 10-inches, the scope of this project is breathtaking. Rhythm & Sound's style remains unique: Berlin techno seamlessly combined with reggae. It's a futuristic sound, and these tracks are essential.