Further Records, 2011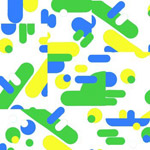 Inspired by their fantastic live performance a week ago when they opened for Dam-Funk at VIA, I tracked down a copy of Pittsburgh Track Authority's latest EP. "Archipelago 6" is a fat, dubby jam. After a slow build-up of percussion changes and syncopated chord stabs, treble synths form a delicate melody. "Archipelago 3" is sparser, contrasting nice, deep bass with cold keys. On the flip side (at 45 RPM) is a dub version of "Archipelago 6." The reverberating chords sound like voices at times.
It's difficult to pinpoint this group's influences, which means they must be wide. Suffice to say these guys (one of whom is infinitestatemachine's Thomas Cox) love deep music, and it shows.