Yore, 2011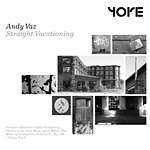 Yore label co-founder Andy Vaz's second studio album reveals his intimacy with deep house. The opening track's vocal sample, "I've gotta put a little Detroit in me," could be construed as posturing in another producer's hands, but considering Yore's output over the past four years, there's no argument—Vaz is a true believer in and promoter of Detroit music. The chord progression at the beginning echoes "Desire" by Carl Craig (as 69) but the jazzy piano at the end is purely original. It's just too bad the vocal sample has a "Little Fluffy Clouds" feel to it.
The saxophone on "Stubnitz" immediately caught my attention. Andreas Pasternack's playing makes the instrument cool again. Messerschmidt is credited with "additional co-production" on this creative blend of airy synthesizers and bouncy bass.
The album's title track is all dubby bass and laid-back vibes. By contrast, "Fukuoka Liquid" is gritty with a muffled kick drum and a wormy acid midrange. Snares tap away and metallic notes burst, yet the cut feels spare.
With "Just Another Round," Vaz takes the disco edit to an entirely new level. A loop from the similarly titled Kasso Italo classic gains funky bass, handclaps, and an 808 cowbell. After a taste of the chorus, Pasternack joins in with a funky sax line. This is just begging to be played to a crowded dance floor.
On "Colliding Worlds," Vaz merges an acid line with Detroit-esque chords. "A Dope Jam (Bullyshit Mix)" playfully mocks New York disco decadence (and possibly a certain record store). A flight attendant announces, "We'd like to take the time to welcome you to New York, big city of dreams, city of opportunity. You'll also find plenty of high taxes, bullshit laws… and much more bullshit. Break out your wallets and enjoy your stay…." Meanwhile, the sugar-coated bassline to "Boogie Oogie Oogie" loops away.
The album concludes with "The Other Place." Old-school beats merge with modern bass, spacey synths, and tabla courtesy of Timir Roy. A voice murmurs, "That's the other place." While the terms "meditative" and "uplifting" are overused, this is one of those golden tracks that's instantly relaxing. In fact, the entire album is a joy (and as a bonus, it includes a link to MP3 remixes by Patrice Scott, Rick Wade, Alton Miller, and others). Vaz built himself a surprisingly soulful home.