ml/i, 2005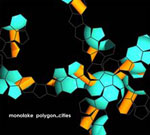 Monolake's latest full-length hearkens back to Detroit techno. "Pipeline" reminds me of Kenny Larkin's Azimuth, adding clanging metal and a robotic female voice to traditional analogue synths. "CCTV" is heavy on the bass. A sound like rushing water does little to break the monotonous repetition. "North" is similarly repetitive, with hints of melody and textured beats. A voice near the end gives geographic directions.
"Axis" (already released on a 12-inch) is a dark late-night track with panning, reverbed notes over a driving beat. Its B-side, "Carbon," feels more complex with burbling liquid sounds, but it never really goes anywhere. Another single, "Invisible," pairs a hypnotic, simple beat with vocal samples of numbers and Web addresses. "Wasteland," on the other hand, is a short drone which could be an outtake from Henke's last project, Signal to Noise. Finally, "Plumbicon" puts video game bleeps and old-school house keyboards over a frolicking, building beat. It's my favorite cut on the album.
This is German techno at its best, where the whole is more than the sum of its simple parts. Monolake's music is consistent in both theme and quality. Best of all it works on and off the dance floor.