Sublight, 2005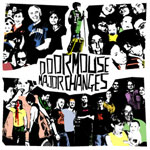 Dan Doormouse has run a long and obnoxious road since he started producing and DJing hardcore techno more than a decade ago. In all those years he's managed to build a twofold reputation: smart-ass, nefarious satirist/producer by day, drunk bastard losing it on stage one show after the other by night. Thus you have Dan Doormouse the musical drifter and Dan Doormouse the cynical troublemaker.
Dan himself acknowledges in the Major Changes CD brief notes that he's made a lot of mistakes in his life and now, after becoming a father, seems to be telling us he assumes responsibility for all his acts, musical and non-musical, past and future. (He's a nice boy after all, as his mother tells us in the introductory track "Parental Approval Warning.")
Major Changes is basically an exercise in baby exploitation that could be lazily dispelled like this: gaga-buba-taca-taca-brrrrrrrrrrrrr-ccapa-ca- te-gaga-goo-coochie-coo-coochi-coochi-coooh-aah-gaga-dada-duu. The prattle of Doormouse's daughter appears in most of the album; it works in tracks like "Lulu" or "Kaya and Dan Beatbox Freestyle," but oftentimes we feel like he is submitting us to his domestic odyssey as a daddy. There are too many passages here lacking substance on the musical side. On the plus side, Joshua Anonymous' drumming is also featured in a few songs, adding liveliness to Doormouse's more paced inquietude of late. Major Changes shows a mellower and more poised musician defying the timely accusation that he's lost his younger edge by wielding his usual recipe of chutzpah and dexterity.
Doormouse's humor is a double-edged sword and you never know which side of the blade is cutting you. Should you take him seriously or just dismiss him as an incorrigible prankster? If you're fond of Dan the joker, this CD will surely entertain you. If you'd rather be treated to Dan the musical maverick, try Stanley Yershonowski presents: Xylophone Jism, as the Ridiculator, his other major release this year on Cock Rock Disco. (Kaya and Anonymous also appear there.)