echospace [detroit], 2008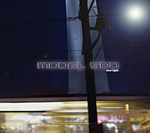 For a time in the early- to mid-nineties, Juan Atkins recorded with Moritz von Oswald in both Detroit and Berlin. The results were two albums, Sonic Sunset and Deep Space (the latter recently reissued), and the single "Starlight," which has gotten several represses from Metroplex over the past thirteen years.
"Starlight" was undoubtedly a strong influence on the current generation of dub techno producers, so it should come as no surprise that they would want to put together a tribute album. To my ears, these aren't so much remixes as "tracks inspired by…." Oddly enough, none of them strike me as sounding particularly "Detroit." Most of them are by the prolific Rod Modell and Stephen Hitchell under a variety of aliases.
It's difficult to compete with the original mix. It's crisp and clear with a precise beat. Synths alternate between fading tones without echo and a sequence where echo is constantly changing. In fact, the "Deepchord Mix" is a totally different beast, with rumbling bass, out-of-control echo, and lots of surface noise. The kick drum is muffled. Over twelve minutes, any changes are incredibly subtle. The "Echospace Unreleased Mix" (exclusive to the CD) stays truer to the original track's synth line, crisp percussion, and graceful reverberations.
The two most distinctive mixes fall right in the middle of the album. "Soultek's Falling Stars Mix" has an electro-esque beat, while the synths remind me of early IDM. The "Convextion Remix" hits full-on with deep, fast bass, but I wish it progressed more over its nearly nine minutes. Likewise, the pacing on "Mike Huckaby's S Y N T H Mix" seems off, with the track ending just as it starts to get interesting. The 12-inch version adds an extra minute, but it still should be longer.
By Sean Deason's indistinct "Psykofuk Mix," I feel like I'm suffering from remix overload. "Phase90 Reshape," another exclusive, is so dense it too falls into the background.
Thankfully the collection closes with a beautiful, ambient "Intrusion Dub" (available on 12-inch with an extra ten minutes). It's a love song to background noise which deserves to be heard loud. Field recordings and drones slowly silt into the mix. It's like those lengthy scrolling shots of cultural fragments just under the water in Tarkovsky's Stalker. But if you listen carefully, children play in the distance. This composition gives me hope that today's explorations of echo are not just a passing fad.