Planet E, 2008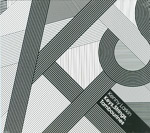 For at least the past ten years, Larkin's Azimuth has been one of my favorite LPs. Needless to say, it takes a strong album to live up to that debut, and Keys, Strings, Tambourines does. Once again, Larkin demonstrates the flexibility of Detroit techno, weaving jazz and even IDM influences in and out of carefully crafted tracks. I have no doubt I'll be referring to this as a classic ten years from now.
The first track, "Androgenous," seems straightforward until shimmering synths solo wistfully over its driving beats and bass. From the start, "Glob" feels like something new, with jazzy, sometimes glitchy bells slowly climbing changing beats and rich bass drops. Keyboard improvisation builds beautifully towards the end. It feels like Herbie Hancock doing techno.
"Wake Me" is a thick slice of dub techno made more interesting by a quirky melody and a gorgeous keyboard solo. This is what this stuff should sound like! Just as fine is "You Are… Light," deep techno with a New Age inspirational speech. I'm just not sure if we're meant to take the speaker's platitudes seriously. "Drone" follows with rattling percussion, descending bass tones, and heavy breathing. It's wonderfully weird.
"Vibin'" picks up where "Drone" left off (in terms of creativity) with primal moans and meandering vibraphone. "Cirque de Soul" is another stomper with jazzy piano over a funky bassline. The beat drops out for a while, emphasizing the interplay between bass and keys. "Deja Vu" is an IDM surprise. Beats bounce and pan in a nice tribute to electronic experiments gone by.
Keys, Strings, Tambourines is brimming with creativity. Larkin invents new styles and refreshes older ones. This is one of those rare releases that encompasses all I love about electronic music, and brings back the excitement I felt when I first discovered it.