This is the second part of a series examining the roots of house music.
Everyone knows house music is a direct descendent of disco, but to most, disco is still a dirty word. After pop-culture co-opted inner city dance music, there was the inevitable back-lash. Still, the best DJs were able to find deep cuts sneaking out amongst all the cheese. Frankie Knuckles, Ron Hardy, and other Chicago jocks undoubtedly bought the records below when they were new, yet they were still playing them five years later when the house sound started to gel.
Stephanie Mills: "You Can Get Over"
20th Century Fox Records, 1979
This one's a slow-building electronic groove. The break at the end, with its call to "get up, get down" is excellent as well, so make sure to find the 9-minute version.
Persia: "Inch by Inch"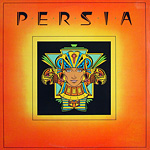 Casablanca Records, 1979
Even though this tune was never released as a single, it was still big in Chicago. Bizarre distorted guitar resembles a back-up singer, while Zell Black sultrily purrs double entendres.
Tempest Trio: "Do You Like the Way That It Feels"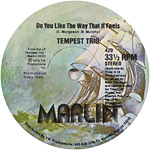 Marlin, 1979
A gorgeous production through and through, the single was only available to DJs, and the best cut was on the B-side. The prominent synths and catchy chorus are still capable of pleasing a crowd.
Debbie Jacobs: "Don't You Want My Love"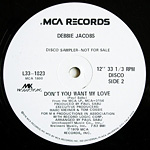 MCA Records, 1979
This is another promo B-side, showing big labels were losing their faith in disco. You couldn't ask for a nicer cut, though, with strings and horns aplenty.
Phreek: "I'm A Big Freak (R•U•1•2)"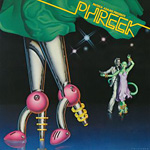 Atlantic, 1978
This album track is probably the trippiest and most pornographic production by Patrick Adams, the man behind Bumblebee Unlimited, Cloud One, The Universal Robot Band, and many other indie label aliases. I can't get enough of his signature synthesizer swirls.
Bonnie Oliver: "Come Inside My Love" (Instrumental)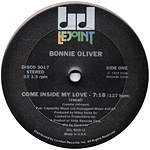 Lejoint, 1979
The instrumental version is where it's at. Piano caresses a thick, roving bassline. Horns and strings thrust. Midway through spacey synths descend.
Billy Frazier & Friends: "Billy Who?"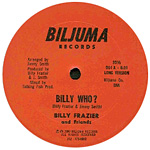 Biljuma Records, 1980
Also a Paradise Garage favorite, this rare, self-promotional arrangement sounds like a completely different song at its break (featured here). You really have to hear the whole thing, though.
Machine: "There But For The Grace Of God Go I"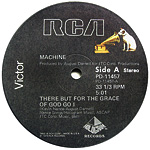 RCA Victor, 1979
I almost didn't include this one since I've played it into the ground. August Darnell's tale of a girl trying to escape her bigoted family features sumptuous production and a wonderfully synthesizer-heavy break.
Caroline Crawford: Coming on Strong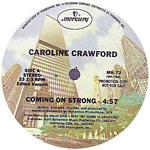 Mercury, 1978
Legendary producer Bohannon filtered Crawford's vocals and spread them out over his trademark grunting rhythm guitar. The result is a fiery, bluesy number that clocks in at a mere five minutes but packs plenty of punch. Plus you've got to love the Chicago skyscrapers on Mercury's label from that time.
First Choice: "Let No Man Put Asunder" (Walter Gibbons Mix)
Salsoul Records, 1978
No list of Chicago disco favorites would be complete without this track. It seems that every major DJ had his own edit. Most were based on the Walter Gibbons mix from the collection Disco Madness. Gibbons stripped out all but piano, vocals, and a simple beat, predicting the essence of house.