Black Jazz Consortium: Dark Points Part 2
Soul People, 2009
So far I've only seen this available digitally, but I hope it will see a vinyl release. "Mind in Flight" is seventeen minutes of dubby house, with deep, thrumming bass. Jazzy keys flit over the rhythm. It's perfect for late night or hazy evening listening.
Omar-S: "Still Serious Nic"
FXHE Records, 2009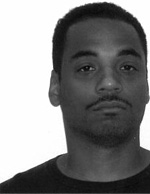 Omar-S never disappoints, but his latest EP, from over a month ago, has been growing on me. "Flying Blind" is a beautiful combination of simple bassline, pulsing chords, and lo-fi keys. It mixes right into the title track, which has a darker tone and some mysterious pulses. "Still Serious Nic" glides on and on, the grooves packed tight. On the B-side, Don Q's unique vocal styling brings the gospel "Lift Him Up" to another level. Finally, "Flying Gorgars" lets synths loose over a trademark Omar-S beat. Once again Alex has crafted a perfect merging of house and techno ideas.
Disco Nihilist/Daetron Vargas: Construction Paper 01
Construction Paper, 2009
This new white label is a preview of Vargas' new label. A1 features twangy piano notes over a solid 303 bassline. A2 is a fleshed-out analogue synth instrumental with cascading harpsichord-like sounds. Very uplifting. Daetron recorded it straight from an Electribe to an old reel-to-reel. B1 is an acid jam reminding me of early Steve Poindexter. B2 is an old-school rhythm track with a strange rattle in the background. There's not a weak track in the bunch.
Jackmaster Hater: Your Love (Original Unreleased Version)
Warehouse Box Tracks Records, 2009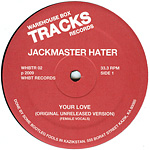 While this is a bootleg, it does shed light on yet another unreleased house tape that Ron Hardy played at The Music Box. Plus, the quality is a little better than the CD-R version which has been making the rounds for years. (Though it seems slower than it should be.) The "Female Vocals" version is the one I've heard before. Like the bootleg of Robert Owen's "Passion" which preceded it, this record is more for historical interest than for playing out. It's too bad Jamie Principle won't be seeing any money for it.
Hieroglyphic Being: Dope Jams 3 Year Anniversary
Dope Jams, 2009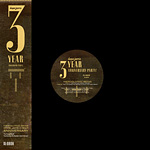 Jamal has been prolific of late. On this limited EP for Dope Jams, he pushes lo-fi to its limits. "The Future Shock" is almost painfully distorted. Bells disintegrate while synths squawk. "The Universe We Reside In (Anti-Matter)" features a rhythmic drop-out. The treble isn't quite as punishing, and the spacey electronics contain a certain majesty. At the end, mysterious narration (a German astrophysicist poet?) speaks over static. This one is only for hardcore fans.