Mathematics Recordings, 2011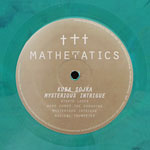 Mathematics Recordings isn't usually known for lush productions, but this new album by Sojka is sumptuous. On "Stupid Lover," an unidentified female vocalist glides over laid-back keys and a bounteous bassline. The lyrics mention a "cold, cold past." "Here Comes the Sunshine" features funky electric bass and orchestral strings over a dry house beat. A stunning melody turns this one into a true anthem.
"Mysterious Intrigue" is a nu-jazz number. Live piano and muted trumpet are joined by electric organ and even more brass. Though it builds, the cut maintains a late-night feel. "Magical Trumpeter" has old-school Chicago bass and beats. Long minor chords add depth while horns surge.
Moving on to the second (vinyl) disc, "Do Not Be Afraid" is a bouncey vocal house track that reminds me of Round Two's "New Day." At first, "Awakening Silesia" seems like a dubby cliché, but then jazz elements creep up in a welcome twist.
On the flip, "Voyager 1" has a Derrick May-esque synth line over a raw middle-octave bassline. I just wish it were longer. "Metropolis" also has a Detroit feel, with blurpy analogue electronics. Tech-house bass and beats drop in out of nowhere, taking the track in an entirely new direction (though I could do without the whispered vocal).
True to its name, "I Can't Stop (Acid Mix)" is old-school acid a la DJ Pierre. While the style is decidedly dated, Sojka's unabashed reverence for it is honest and appealing.
This album was only available in limited quantities on green and blue vinyl, but it's set for a broader release with full cover art soon. Keep an eye out for it. It's the first full-length to excite me this summer.