Golf Channel Recordings, 2011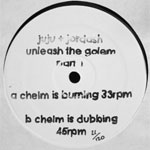 In Jewish folklore, a golem is a Frankenstein-like creature made from clay and brought to life. In one legend, a rabbi in Chelm, Poland creates a golem to defend local Jews from persecution. Of course the golem eventually rages out of control, since despite the best intentions man should not play God.
Juju & Jordash's latest single evokes the tale's spookiest elements. On "Chelm Is Burning" (marked for 33 RPM), whistling synth winds and minor keys move over a slow, dubby bassline. When guitar joins, I'm reminded of Manuel Göttsching's E2-E4. There are echoes of the Moritz von Oswald Trio here as well.
"Chelm Is Dubbing" is meant to be played at 45 RPM, revealing a coptering acid line and distorted soundtrack music. It's Demdike Stare for the dancefloor.
I love Juju & Jordash's penchant for experimentation, but this single is a bit Jekyll and Hyde. The A-side is long and hypnotic while the B-side is speedy but strange. No matter your preference, both tracks are deep and interesting.