Modern Love, 2011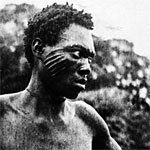 Stott continues his love affair with bass on this new mini-album. Over the past five years, Stott has shrewdly transitioned from techno to dub techno to techno/dubstep. In fact, the brief pop vocal samples on "New Ground" and "Intermittent" remind me of Burial.
On "New Ground," beats and bass create the sensation of suction. "North to South" is harder to categorize, but the flat beat and slow samples are very Newworldaquarium.
"Dark Details" is thick as molasses with reverberation. The bass-drops halfway through will give any sound system a good work-out. A looped vocal at beginning and end exhorts, "Jump!" "Execution" is back in a Newworldaquarium vein, with ghostly disco samples stretched over a slow beat. This is the one cut that stands out for me.
The title track, like "New Ground," expertly evokes a sinking feeling. It would likely make good late-night driving music, but it's too abstract for the dancefloor.
On the first couple of listens earlier this week, I felt that there was something missing from many of these tracks, but they are slowly starting to grow on me. Everything about this release is a little off-kilter. Even the ritually scarred African on the sleeve strikes me as more out-of-place than bad-ass.