Yard Rock, 2006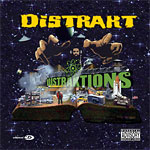 Distrakt wears his influences on his sleeve. From soul to classic rappers like Bambaataa, BDP, and Gang Starr, Distrakt was raised listening to the best. He's a natural crate-digger, and it shows in his jazzy beats. On "Few Bars," upright bass and horns glisten as Distrakt weaves clever rhymes: "I strike like Mega Force, flame like a torch in a booby-trapped Egyptian temple." "Fire Escape" brings out funky guitar and an old-school chorus. Distrakt varies his flow, which keeps things fresh despite not having any guests. On "Don't Get Mad," he adopts a sing-song style which fits the bumping bassline.
Distrakt's lyrics are creative too. On "Stereotypes," Distrakt powerfully addresses racism, using white for black to make listeners really think about it. "BIC" is an a cappella ode to Distrakt's ball-point pen. "Dirty Record" describes a crate-digger's dilemma, "The experience of a dirty record, do I pass or do I collect it?" He wraps up with shout-outs to his favorite producers.
Even in this age of home studios, there are few MCs who produce their own beats. This album must have taken an enormous commitment, but it was worth it. This is a strong debut.