Blood and Fire, 2006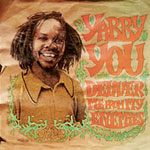 This roots reggae album was originally released in 1977. Once again, Blood and Fire did an amazing job with their reissue. Sound quality is top-notch, and there are seven bonus cuts, including a dub of the title track.
These are some sweet riddims. The bassline on "Judgement Time" is powerful, and Yabby's vocals, with harmonizing back-up singers, are beautiful as well. On "Blood A Go Run Down King Street," Yabby sings soulfully while Prince Jammy pans the guitar between channels. "Love in Zimba" is a lighter instrumental which showcases the huge horn section.
The extra tracks include four 12-inch mixes from Grove Music singles. "Jah Vengeance" is deep and dubby, with deejaying by Trinity. Two previously unreleased dubplate mixes of "Pick the Beam" round out the selection. On the version, Prince Jammy does some amazing reverb tricks with the vocals.
This is a great companion to the two-disc Jesus Dread set Blood and Fire released nine years ago (encompassing the albums Conquering Lion and Walls of Jerusalem). Definitely pick that one up first. This release is nowhere near as monumental, nor is it as deep. Instead, it's a better indicator of Yabby's range (even featuring the occasional love song).