Today we got to the festival before 3:00, and it was initially uncrowded in the hot sun. At the amphitheater, Vladislav Delay was playing a very mellow, beatless ambient set. The bass was heavy, and I spotted Robert Henke helping out at the sound board in back.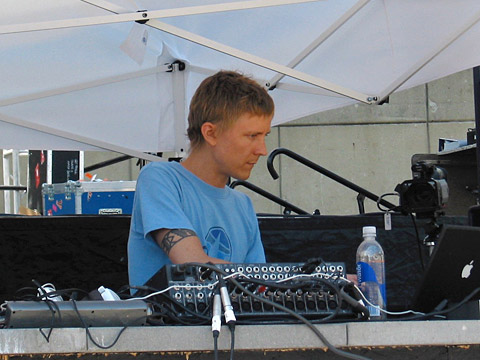 In the Real Detroit Weekly tent, Music Institute co-founder Alton Miller played some vocal house. It wasn't really my thing, so I found a shady spot where I could continue enjoying Vladislav Delay.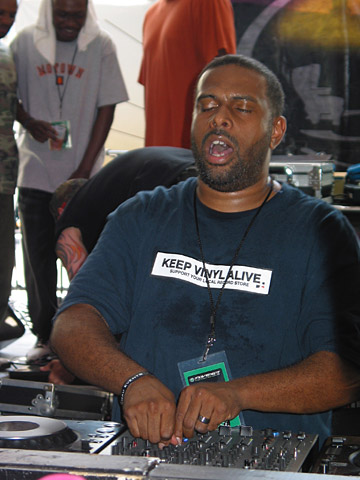 After that it was the day of the DJ. Around 3:30, 3 Chairs' Theo Parrish started his set with quirky acid before spinning the deepest, hardest instrumental house. He even dropped an Omar-S record. Parrish worked the EQs furiously, like a man possessed. At one point we all thought he'd broken the mixer. He played what seemed like half an hour of James Brown loops, before returning to acid and Newcleus' "Push the Button."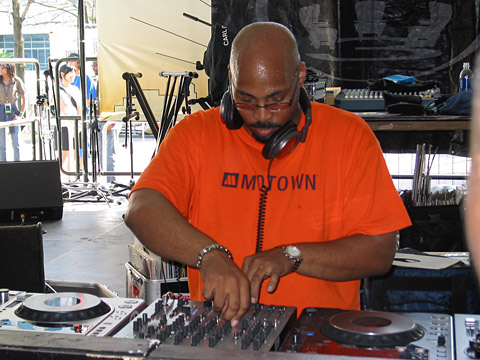 Rick Wilhite spun a set of soulful disco-tinged tunes. I felt his flow was a bit muddled near the end. Meanwhile at the main stage, Acquaviva was apparently in full rave mode with an annoying MC.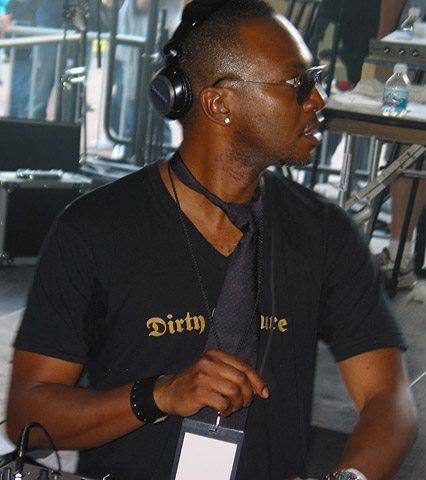 At the end of the 3 Chairs set, Parrish, Wilhite, and Malik Pittmann took turns at the decks, and were reluctant to turn them over to Stacey Pullen, for whom a large crowd had gathered. Pullen began after a brief silence, then DJed dramatically, albeit with CDs. From time to time he stood above the crowd to clap. His selections were hard, fast techno. It was a pleasant change of pace after so much house, but some of the tracks struck me as rather simplistic.
Outside, A Guy Called Gerald was farting around with weird, quiet, tinny drum 'n' bass. Nobody was dancing. Even "Voodoo Ray" failed to generate a response.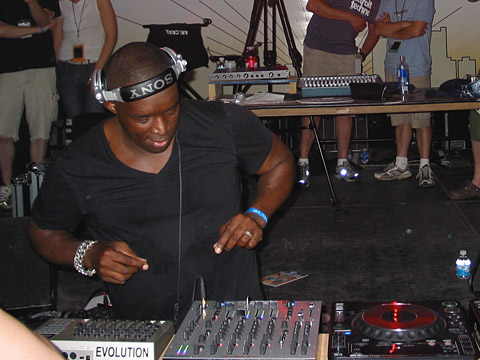 Kevin Saunderson was the best part of the day. His DJ set was absolutely amazing. It was without a doubt the loudest music I've ever heard. Saunderson alternated between ecstatic vocals and heavy, heavy reverbed rhythm tracks, working edits of Eurythmics' "Sweet Dreams" and "Can You Party" by Todd Terry as Royal House. When he dropped the "Good Life" chimes the crowd went wild, but he teased everyone by just playing instrumental parts a couple of times. Surprisingly, Saunderson used CDs and Ableton Live.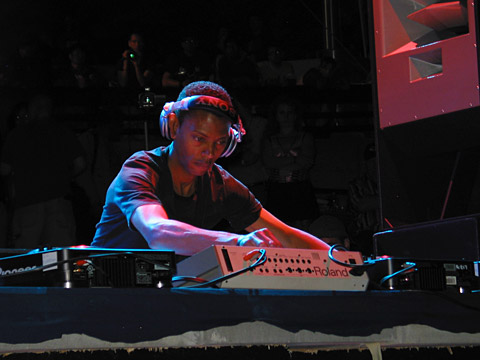 When Saunderson finished (leaving at least one young man shouting, "We love you, Kevin!") it was time to catch Jeff Mills at the main stage. By then the amphitheater was packed with people, and I had a hard time getting into Mills' set. He played his own material, mostly Purpose Maker stuff, and at least while I was there he wasn't doing any turntable tricks. His style is so minimal and claustrophobic, it didn't seem to translate well to such a large venue. It was great to see him live, nonetheless.
It's easy to get burnt out after three days of crowds and four-on-the-floor beats. That said, Movement 2007's line-up was great and everything seemed well-run. My only regret is not getting to any afterparties, but after nine-hour days at the festival, my partner and I were too exhausted. I most enjoyed catching the main Detroit artists, since there were so many I'd never seen before. With hours and hours of great music on superb sound systems, DEMF did not disappoint. I would definitely return.