I might as well write my first dispatch from the Detroit Electronic Music Festival while my ears are still ringing. Last time I attended, I made an effort to check out what was going on at most of the stages, but this year I decided not to bother with artists I know I won't dig. It's made for a much better experience so far, though I still wound up exhausted.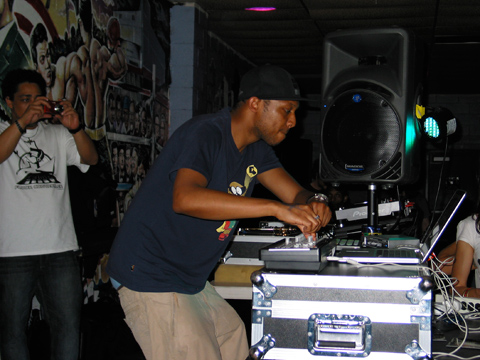 Friday night, I went to a pre-party at Burt's Warehouse Theater, catching Rick Wilhite, Uchikawa, and Wbeeza. Uchikawa seemed the crowd favorite, though he was too vocal-house for my taste, and he definitely overdid the mixer effects. Still, we were in the same train car as him coming up from Chicago, and he seems like a nice guy. Wbeeza was enthusiastic at his laptop controller, but none of the tracks jumped out at me. Still, it was nice to be at a small, local venue, and the murals inside were incredible. Plus, I finally got the chance to meet Tom and Frank from Infinitestatemachine. Nice guys!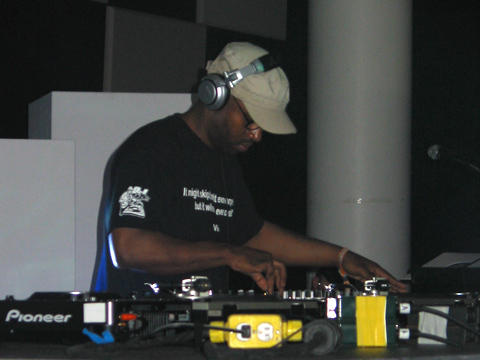 Saturday began with brunch at The Ham Shoppe on the edge of Greek Town. If you ever desire a huge plate of ham, sausage, bacon, onions, and potatoes smothered with cheddar cheese slices and eggs, it's the perfect place. Finally to the festival, where Patrice Scott was playing a smooth deep-house set at the underground Made in Detroit stage. While there was controversy about the return of this cramped concrete space, the festival organizers have done a lot to improve acoustics, hanging bass traps and adding an army of sound technicians. There are still some dead spots, though, and when it gets packed, there's a scary lack of exits. Patrice built a pretty good crowd, even as an annoying b-boy dance circle hogged space for a while.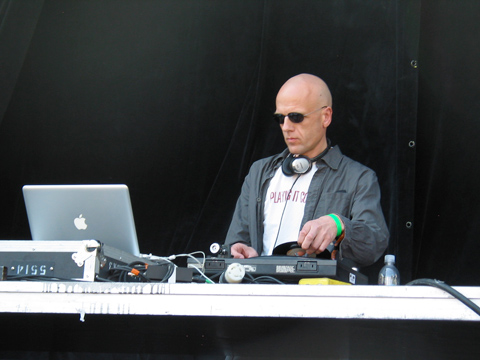 I spent most of my time at the main stage, where Mark Ernestus played a three-and-a-half hour set of unmixed reggae—mainly digital dubs. The amphitheater was relatively empty, but a diehard group of fans (including me) hung out in the shade right in front of the stage and enjoyed the crackling 45s. At one point the breeze picked up enough to skate Ernestus' needle. He seemed pretty serious about the proceedings, but reggae was the perfect music for a hot, sunny day. In fact, his set was my favorite thing all afternoon.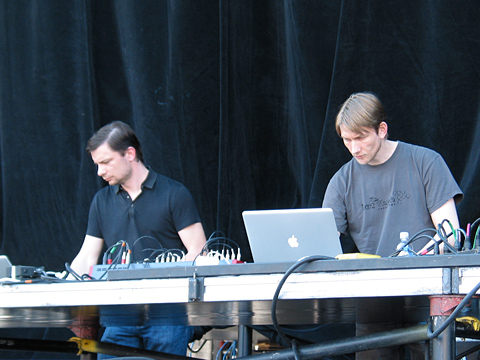 Fellow Hard Wax men Scion took over next with slow, spare dub-techno. Their pace gradually increased with an influx of reverberating chords. I only caught the beginning of Kyle Hall's set, but as I tweeted, it made me feel a bit old. He had the disadvantage of coming on after Niko Marks, so to transition all of the teens, he played some ghetto bass before switching to more techno fare. There were some tracky cuts in there as well. It seemed disjointed to me.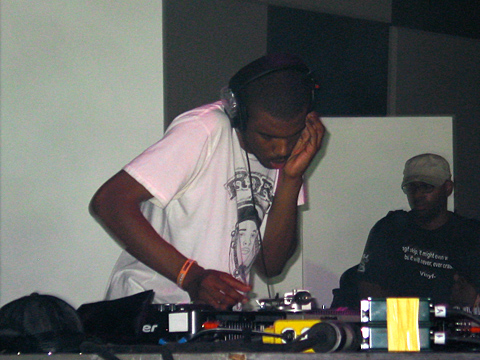 After a brief break from the festival for a shower and change of clothes, I caught the end of a soulful set by Rick Wilhite. He spun much better than the night before. I have a feeling his heart was more into it. He even played a "Los Niños Del Parque" cover.
A skinny, cigarette-smoking Theo Parrish started off strong, even cohesive, before his set fell apart and the floor cleared. He still manages to find tons of records I can't recognize, and a few I feel I should. He played "Gardens of the Pure," "Acid Tracks," and "Synthetic Flemm" along with some jazzier pieces, but he struggled to keep the groove going. The Hard Wax guys were in the audience for a while.
Everyone emptied out, of course, because they wanted prime seats for Plastikman. By the time I got over there, it was impossible to get a view of the stage. Say what you will about Richie's recent music, it's still fun to hear his early tracks on a huge system. He even came out to show off his latest blond do for the last ten minutes or so.
As though the day weren't action-packed enough, at midnight I was off to a tiny, dark theater space at 1515 Broadway for the NDATL after-party. As you can tell from my having posted this, I only stayed through the first set, but I doubt anything could top it. Larry Heard played a beautiful mix of house classics, heavy on Adonis, but with a little Clivillés & Cole as well. The space was cramped, and the cover was really high, but it was still worth it. In fact the party should still be going for another hour, so hurry on over. With any luck Theo will redeem himself. Don't worry, there's another chance to hear Larry Heard at the festival Sunday evening.