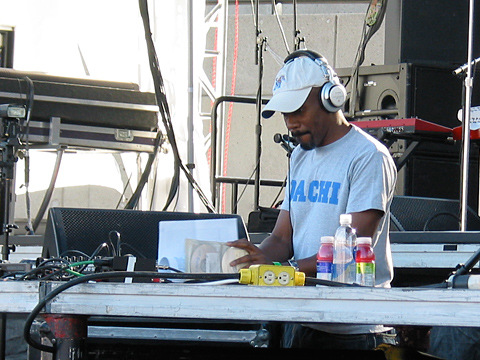 My second day at DEMF was short and sweet. By the time I arrived around five, the crowd was partying hard, buoyed by hot, clear weather. I checked out Larry Heard first, though he couldn't live up to the previous night. Perched at the front of a giant, empty stage, he stoically spun an accessible, acid-heavy set, dropping "House Nation" and Farley's "Acid Trip" while Theo and Rick looked on.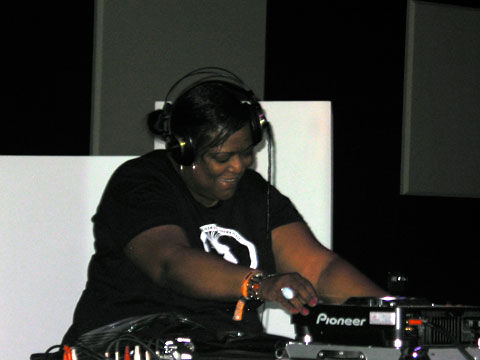 Meanwhile, K. Hand was tearing up the Made in Detroit bunker. She pushed the sound system hard, pounding out pure techno beats. Dancers raised their hands in the air and shouted "De-troit!" Hand kept the tempo high, even as she mixed in Sylvester's "You Make Me Feel (Mighty Real)." I'll bet she won over a lot of new fans.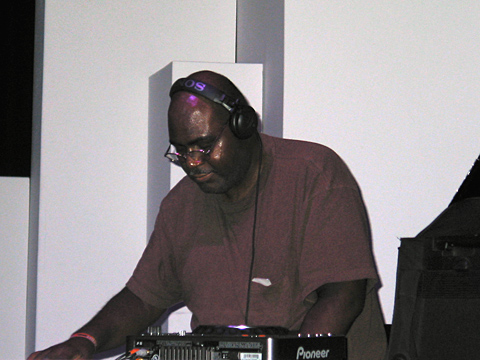 Anthony "Shake" Shakir was on next, and I was happy to see that the crowd remained fairly large. It was great to hear Shake spin a harder set, smoothly working in a few of his signature classics. He really takes you on a journey. I wish he could have played longer.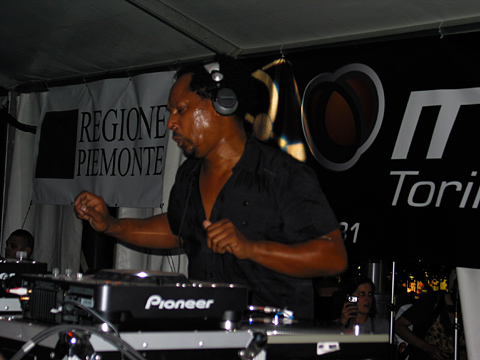 I've never actually heard Derrick May DJ before. I checked out the beginning of his set, but except for a tolerable remix of Roy Ayers "Running Away," it was mainly stadium dance tracks with simple loops. His knob twisting was dramatic, though, and people seemed smitten.
After an apparent false start, Robert Hood began his much-anticipated live set underground. Everything was precise, from his look to his music. The bass so loud, it vibrated the hair on my neck. A packed, sweaty crowd bumped and ground or just jumped up and down to the massive beats. Hood mixed old with new. It was a wonderful moment when he triggered the instantly recognizable opening to "Who Taught You Math." I didn't want to miss a second of his performance.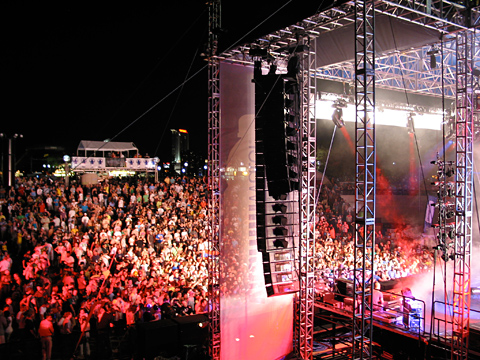 As the night wound down, I listened to Inner City "live" from the outskirts of the ampitheater. Kevin Saunderson was on stage with Paris Grey. He did little to update the sound or visuals; it was like being caught in a time warp. I'll admit, I still get a kick out of hearing "Good Life." It was one of the first Detroit tracks I ever heard on a radio mix show, back when I was first getting into dance music.