Sublight, 2005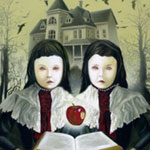 Where NYC producer Joseph Fraioli partially shelves the truly original and claustrophobic sound of his most recent release (Mmale and Ffemale) and approaches the breaks with different degrees of success. Sometimes the tracks sound like only Datach'i could have produced them, other times they sound like some other (really talented) producer could have come up with them.
The Elements go like this:
"Musket Iron" is a roller coaster made with double bass, a playful flute melody (that sounds Peruvian), strings, and glitchy breaks. Curious tidbit: at minute 3:52 it uses a short bridge taken straight from a track off the Mmale and Ffemale album.
"In Silence" somewhat revisits the world of Mmale and Ffemale and uses ghostly female voices that delicately drape the whole track. The breaks are clean, perfectly cut and placed, with just the right amount of twisting. Simple and effective.
"Drowner" starts with distant chimes and seagulls, and then proceeds with a simple mantle of synth chords, the prerequisite break assault, and a section of plucked strings that luckily pushes the break to the background. (This particular break was kind of stale a long time ago.)
"LaByRa" sounds like a track Snares could have produced for his Higgins Ultra Low Track Glue Funk Hits album on Mu (has a few similarities with "Dance Like You're Selling Nails").
"False Sentiment" is the typical breaks-barrage accompaniment to a pre-existing melody. An exercise tried by a lot of producers, but only occasionally working. Fraioli pulls it off.
"RAK[E]" feels like ritualistic dark music, cavernous and with distant synth bells that brought to my mind the work of Wendy Carlos for Kubrick's The Shining.
"ATAC" keeps the murky tone, with vintage Fraioli beat pulp and a simple melody appearing and disappearing like a subterranean river. Mmale and Ffemale territory.
"Differential" sounds like Snares programmed the beats and Datach'i did the digital twisting. And sounds great.
"MTHEL VII" is pure Datach'i sound, with those metallic percussion atoms floating all over the place.
"KKVWS" is more darkish vintage Datach'i. Again those synths in the background Wendy Carlos would be proud of.
"Frayed" is a strange mix of clavichord, gabber kicks, a creepy melody, and a pile of off-the-shelf distorted breaks with some additional tweaking.
"Rockafeller Estate" is a dark, gothic ambient piece, all scattered delayed gabber kicks, plucked strings, and ominous synths. A remarkable track.
"Battle Master" reads like another "false" collaboration between Datach'i and Snares. Even better than the previous one.
"Rye Pier Fence Watching" unluckily closes the album with a somewhat trite note. It is a richly textured piece, full of playful melodies, but these are too reminiscent of some early UK producers and again it uses that old break someone should confine to a safety deposit box.
All in all, a magnificent set of tracks by one of the best producers in the US of A. It is a good starting point for listeners unfamiliar with the sounds of Datach'i.
*The CD includes a fine if not mind-blowing video by David Firth for the track In Silence.