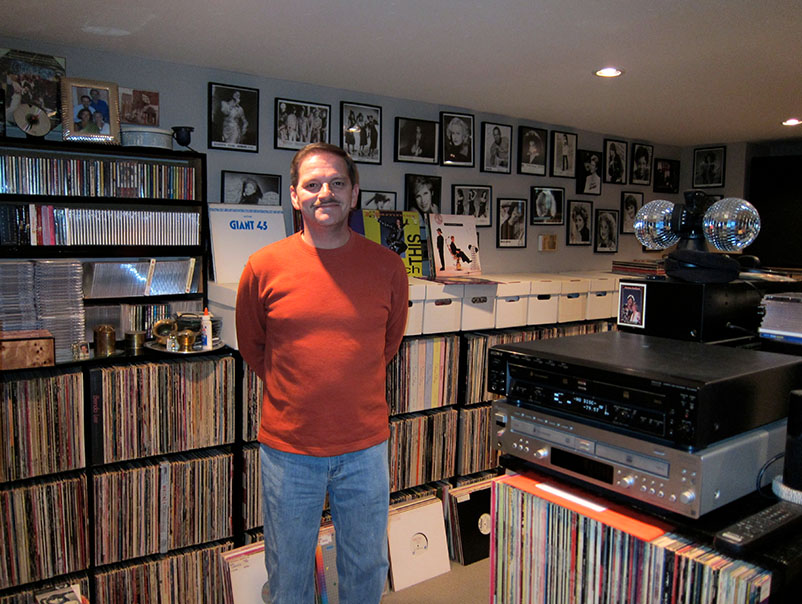 Daniel Goss on Dugan's Bistro and Chicago's First Radio Hot Mixer
The history of Chicago's gay dance scene has gone mostly undocumented, despite its undeniable influence on the development of disco, house, and pop music. In a basement full of memorabilia, Daniel Goss (51) catalogs his experiences, recording rare mixes and scanning personal photographs. Goss is the creator of Disco Museum [formerly http://discomuseum.net/], a sprawling tribute to the glory days of disco, when gay culture crossed over into mainstream America for the first time.
Goss grew up in Chicago, but between the ages of fifteen and seventeen he lived in Atlanta. It was there that an aunt introduced him to clubbing. On moving back to Chicago in 1977, Goss started dancing at Broadway Limited and Crystal Blinkers in what is now Boys Town. The area was nowhere near as upscale as it is today. Goss recalls that clubbers had to travel in groups, wearing whistles around their necks to call for help in case of muggings or literal "gay bashing." Says Goss, "It was scary."
One night Goss ventured farther afield, to The Bistro at 420 N Dearborn St., just north of Marina Towers on the Chicago River. There was no turning back. Explains Goss, "It was incredible. The Bistro was the pinnacle club in the Midwest and one of the top in the country…. It was so big, and it was so popular in Chicago that when touring rock stars and celebrities would come through, that's where they would go. Not Faces, not Zorine's, not any of those clubs."
The Bistro was Chicago's largest gay disco, and it was Edward "Dugan" Davison's party. By the time Goss started going there, it had already been open four years. According to Goss, Davison was a bartender originally, but in 1973 he borrowed money from his parents, leased an old French restaurant called the Bistro, and converted it into a dance club.
The Bistro's DJ was Lou DiVito. Goss was immediately struck by his skill. "Lou was the first DJ I ever heard mix on beat and in perfect pitch. Back in Atlanta I heard some good jocks but none had the ear that Lou did."
DiVito was so good, he became Chicago radio's first "hot mixer" on WDAI in 1979, recording his sets right in the club. Billboard Magazine named him "best regional dee-jay" for two consecutive years. Goss would become DiVito's friend and disciple, serving for many years as his alternate.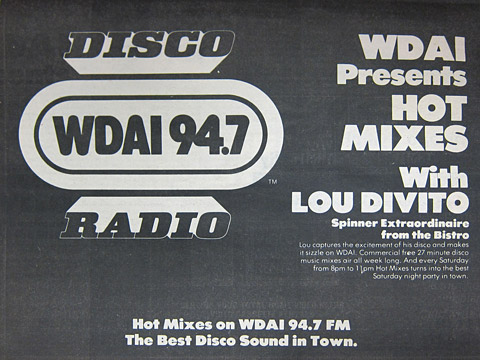 DiVito grew up in Oak Lawn, a suburb south of Chicago. He originally studied interior design, receiving a degree from Harrington Institute. DiVito told Goss how he became a DJ. "He used to go to the bar at Bistro when it was first opened, and nobody knows, even Lou didn't even remember who the guy was who was the first DJ at the Bistro. This was before mixin'. They would just play 45s, they didn't even have 12-inches. The guy left the booth one night and never came back and Lou put on the next record and the next one and the next one, and he just became the DJ by default."
The Bistro was renovated in 1977, and the decor was impressive. Goss recalls, "The bar was two levels, painted in Perrier green. The main floor had banquettes surround[ing] the room with a giant oval bar in the middle and a game room off to the side. You then went up about six wide stairs and entered right onto the dancefloor. That room also had banquettes around… [it], an L-shaped bar in the corner and a lounge room off to the side. The DJ booth was in a corner raised above the dancefloor and it sort of looked like a space ship." There was a small stage for drag shows between the booth and the private lounge.
Goss describes the Bistro's clientele as mostly white and gay. Other gay clubs such as the Warehouse, Den One, and Dingbat's, catered to a predominantly black audience, but there was certainly crossover. Goss explains, "I can guarantee you, I was there, you found everything at the Bistro. Men, women, black, white, straight, gay, young, old, ethnic groups, you found it. Just like Studio 54 they kind of were select about who they'd let in. They didn't just let everybody that walked up to the door in." On the other hand, "If you were young and cute, you could get in there without an ID."
In 1978, Goss started working at the Bistro. He says, "I did everything except bartend…. I started out as a bar-back. A bar-back would get ice for the bartenders, go get more beer for the bar, and pick up glasses all over the bar. I waited tables. I danced in drag. I DJed. I did lights. I cleaned up the bar at closing… sweep the floors, vacuum, clean mirrors, stock the beer coolers. I doormanned for a little bit."
The Bistro was incredibly popular. Goss explains, "I remember one night in particular, it was really hot in the bar. It was the middle of summer. There were so many bodies pressed up in there, and it was so hot, and I was bar backing, and so I was running around picking up glasses and stuff. It was so hot that I ran to the front door to get some air, and I went and stood out on the front talkin' to Harry, the doorman, and I looked down Hubbard Street, towards Clark, and the line went all the way down to Clark Street and around the corner, of people waiting to get in. And I remember we looked at each other… and we were like, These fucking people are crazy, it's hotter than hell in there. We're dying to get out and they're standing in line to get in! But that's the kind of club it was. People would literally wait two-blocks deep to get in there to hear Lou play and to experience the light show and the atmosphere."
The light show, controlled by Thomas "T.L." Noble, was unique. Goss remembers, "It was a low ceiling, so it was almost like you could reach up and touch it, but you couldn't quite touch it. But that's the way it felt. The lights were right there on top of you." There were two overlapping squares of chaser lights above the dancefloor, Mars rotating lights on poles, and even black lights. Plastic snow was blown in from above, and dry ice fog from below. Strips of light ran around the edge of the dancefloor and through it. Rings of lights that chased up and down mirrored columns. On opposite walls were two neon signs: a pair of lips and "boogie boogie," with parts that could be blinked separately.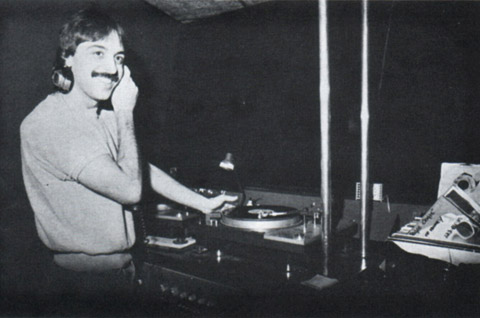 DiVito worked with local sound engineer Lee Windmiller to design a custom sound system. Tweeter arrays, which Goss describes as "upside-down pyramids with three tweeters in them that Lou could control separately" were spread around the dancefloor. "And then he had full-range speakers on four sides, then giant bass speakers on the floor, and then mid-range speakers all the way around. So literally, wherever you stood, you just got a beautiful sound." Windmiller used to bring in potential clients to show off the system.
Goss says the Bistro's volume was comparable to the Warehouse, but at the Bistro, "you could hear every little cow bell, every little violin string. You could hear everything crystal clear. It was like everything was sorted out. And I think that played on Lou's music. The music he played, that sound system highlighted. With Frankie and the Warehouse, it was the same thing. The sound system accented what he played…. It was a heavy beat that hit you in the chest…. It felt like you were getting punched in the chest constantly when you were at the Warehouse."
DiVito's DJ booth was equipped with two Technics 1100 turntables suspended from the ceiling to prevent skipping. Each had its own preamplifier for gain adjustment. The mixer had a big rotary crossfader. Goss remembers that DiVito requested a special curve for it. "The volume on the right stayed the same and when you got to the middle they [both channels] were equal and then it would drop. Lou came up with that idea…."
DiVito's smooth style is evident in some of his surviving WDAI hot mixes. Goss explains, "You have to understand, back then this was before scratch mixing. The whole thing of DJing was very different. It was about how well you blended two songs together and the overall evening, the overall effect of the night. So you would take a crowd up and bring 'em down. Clear the dancefloor, bring everybody to the dancefloor."
DiVito didn't have to make his own edits, because he would re-arrange on the fly. Goss says, "I can remember him working France Joli 'Come to Me' and Bryan Adams' 'Let Me Take You Dancing.' He would do a mix from 'Come to Me' into 'Let Me Take You Dancing.' But then he would take two copies of "Let Me Take You Dancing" and he would loop that beginning over and over again and it would build up and then it would go back to the beginning again. He did that all with two copies of a record…. Or he would take two copies and phase them. Or go in at the middle of a record and then all of a sudden go back to the beginning—and you didn't know he'd gone back to the beginning—and then go back out at the break again. You wouldn't know how he did all that, you didn't know what he had changed. It was that smooth."
But crowds didn't flock to the Bistro just for the music. Eddie Davison went to great lengths to make each night memorable. Goss recalls, "He threw a party once for his birthday… called the Roman Orgy. He paid people to be in togas. He had the front bar covered with wood, and it was big fountains and fruit things and people fanning him… and he had a hole drilled in the ceiling so he that could be lowered out of the ceiling onto the dancefloor. He just did stuff like that." Another time Davison drove a motorcycle around the bar. When Goss danced in drag, Davison encouraged him to get up on the bar and kick drinks to the floor.
One of the Bistro's regular dancers was known as the Bearded Lady. Goss says, "His shtick was he would put on all these clothes and he would get out there and dance and take all these clothes off. There'd be like ten outfits on. The first time I ever laid eyes on the Bearded Lady… I went and was on the dancefloor dancing to Linda Clifford "If My Friends Could See Me Now" [sings] and the Bearded Lady was out there in drag with a cow head on. And everybody was dancing with this cow head on and that was the Bistro!"
Every May 31, Davison held an elaborate anniversary celebration. Goss recalls, "The Bistro would close for six days. All the employees would come in and work around the clock helping to paint and redecorate and remodel, and electricians would come in… and new lights would be put in, and this and that, and all this stuff would be going on. Around the clock. Literally up to the time right before the doors opened to let the party begin, they'd be nailing down carpeting or hanging a light or plugging in something."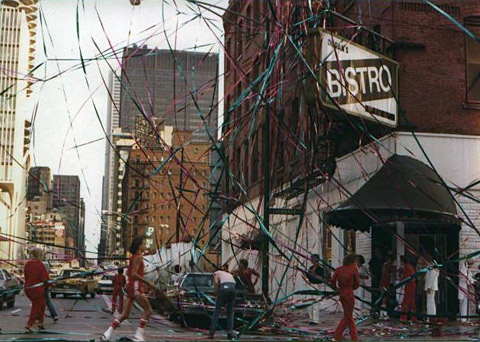 For the Bistro's sixth anniversary in 1979, Davison pulled out all the stops. Outside, six huge spotlights roved the sky. The four-story building was draped with mylar streamers, and silver glitter covered the sidewalk. Inside, air cannons had been installed to shoot foam-rubber stars onto the dancefloor. The club's employees were required to dress in red, guests in black and white.
All this across the street from a police station. Says Goss, "The drug selling, the drug taking, everything was so blatant, you just had to know that people were being paid off…. I can remember, every night, people would be standing there on the dancefloor smokin' joints. Having sex on the dancefloor. I can remember one night after Lou and them were gone to New York, and I was DJing and when I finished the last song, the dancefloor was just packed. As everybody started to clear, there was literally a straight couple on the dancefloor having sex. Things like that happened."
In fact, in 1983, two mob bosses, Joseph DiVarco and Joseph Arnold (no relation), were indicted for extorting protection money from other Chicago gay bars: Glory Hole Tavernia, Carol's Speakeasy, Baton Show Lounge, and Redoubt Lounge. The FBI got much of its information from a gambling boss turned informant who survived an assassination attempt (Unger, Rudolph. "Two mobsters indicted in tavern shakedowns." Chicago Tribune 9 Dec. 1983).
Unfortunately, the party couldn't last forever. The area around the Bistro started to change as property values increased. In 1982, Davison lost his lease on the club and the building was sold. The ninth anniversary party became a closing party. According to the Chicago Tribune, two-thousand people attended. Four days later wrecking balls began demolishing the Bistro to make way for a parking lot.
Eddie Davison immediately began planning a new club, Paradise, at 2848 N Broadway St. In the meantime, Goss went to work at the bath house Man's Country, booking shows for its cabaret. He was also one of the first employees at the record store Importes Etc., which Paul Weisberg spun out of his I.R.S. record pool. When it started, Importes was just a separate counter at Weisberg's father's auto repair business.
Goss recalls, "We were responsible for breaking Nick Straker [Band] 'A Little Bit of Jazz' and Bo Kool and the Funk Masters 'Love Money.' We'd get a record and we'd be hot on it, and we'd turn Frankie [Knuckles] onto it and Frankie in turn would go to the Warehouse and play it and then everybody would buy it."
Paradise opened December 21, 1982 (nine months after Bistro's last night) with a performance by Thelma Houston. Goss describes Davison's new club as "massive." There was a giant main dancefloor called "the ballroom" surrounded by three bars. Goss remembers, "They had this hydraulic light thing. It was this big round thing that spun around, and it went up and down on hydraulics, and all these lights were on it. They had mirror ball clusters that went up and down on hydraulics. Paradise was all about hydraulics, taking it to the next level."
A spiral staircase led into DiVito's new DJ booth, which "was all glass-enclosed like a big starship" with "studio equipment" that allowed DiVito to trigger effects and "make the sound go around the room." Weekdays, Davison opened a smaller area called "the alley," which was urban-themed with a decorative chain-link fence. It had a separate DJ booth. Paradise even had a game room and restaurant area.
Goss returned to Davison's fold as DiVito's alternate in 1985, but before long Paradise was raided by the police, and Davison was arrested on drug charges. His business partner, Steve Weil, took over the club. According to Goss, "Once Eddie was gone, nobody went there and it closed up. People just didn't understand, it was all about Eddie…. He could have taken an old run-down garage and made it into a club and made it successful because he knew how to throw a party. Once he was ousted from Paradise, well the magic wasn't there. Eddie wasn't there, Tommy wasn't there, Lou wasn't there, the fun wasn't there. It just closed up."
After he was forced out of Paradise, Davison began planning Bistro Too with Chuck Renslow as part of Man's Country, but he didn't live to see it open. Eddie Davison passed away from AIDS complications at the age of 40 in April, 1987. Renslow opened Bistro Too seven months later, but DiVito no longer wanted to spin. Lou DiVito died from AIDS complications in 1991 at the age of 39.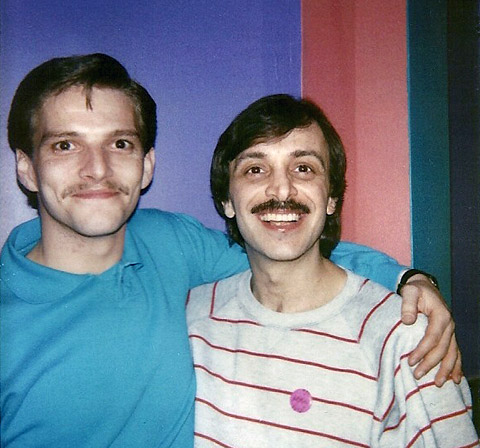 Goss spun and booked acts at Bistro Too, before briefly moving to Memphis, Tennessee. He returned to Chicago in 1991 and DJed at Roscoe's before retiring in 1994. Goss explains, "I got out of DJing at the right time because it really was not becoming fun anymore. What made it become un-fun was when they started having six, eight, and twelve and fourteen versions of a song…. [It] became a producer or a remixer's medium at the studio, not so much in the club anymore."
Summing up his experience, Goss says, "I feel like I was lucky that I came in on the beginning of it and got to be in a great part of Chicago, the best part of it. I got to see the rebirth in the '80s, and I even came back around the '90s, and then I got out of it."
Goss intends to keep updating his Disco Museum site. Old friends see it and get in touch. Rick Giantos recently wrote to Goss about his experience as an alternate for DiVito before going on to mix for AVI Records. There are still plenty of stories to be told.
Note: Daniel Goss passed away September 19, 2022 at the age of 63.