Honest Jon's Records, 2011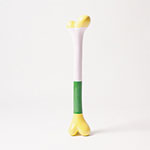 One of my happiest concert-going experiences was hearing Moritz von Oswald Trio perform between rain showers at last year's Movement: Detroit Electronic Music Festival. As clouds blew in and sound engineers bussled, I closed my eyes to tune out distractions and was immersed in the music. I suppose it shouldn't have come as a surprise that the Live in New York album couldn't live up to the real thing. Thankfully, this new studio recording (out next month) brings back my sense of excitement. Like all the best music, it's difficult to classify.
"Structure 1" begins with a beautiful, jazzy bassline reminiscent of "Get Up, Stand Up." Dubby reverberations slowly thicken while guitar and horn-like sounds (the former courtesy of Paul St. Hilaire) tune in from an alternate universe. Before you even realize what's happening, the disparate components pick up steam. In fact, there's a moment that sounds like a train passing. A tightly looped synthesizer sequence contrasts with St. Hilaire's meandering guitar. I imagine sitting on a stoop on a warm summer evening, hearing a radio through an open window and a freight train in the distance. The composition ends with Sasu Ripatti's playful percussion.
"Structure 2" starts just as slowly. Electronics make way for Marc Muellbauer's double bass. Bass and percussion get into a great, laid-back groove. Tinny guitar and smattering keys add a layer of complexity without ever stealing focus. When the bass drops out, everything bubbles away like a wave withdrawing.
A strange, burbling drum machine dominates "Structure 3." Ripatti's loose drumming takes turns with St. Hilaire's rhythmic guitar licks. The bass is strong and low. Swirling sounds climax with intense stereo panning at the very end.
After barely a breath, the fourth and final movement blossoms. Metallic percussion and plucked double bass follow a bouncy, unchanging beat. I hate to use gardening metaphors, but there is something earthy and natural about this rhythm. The word I'm actually searching for is "sexy." This trio and its extended family bring romance back to techno.