Blood and Fire, 2006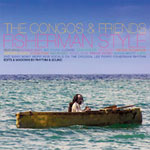 One-riddim albums have been a fixture of reggae since the mid-seventies. Usually they compile previously released singles by different artists who re-used the same rhythm track; however, this two-disc set compiles brand new versions of a Lee Perry riddim from 1977, The Congos' "Fisherman."
Blood and Fire enlisted Basic Channel/Burial Mix's Mark Ernestus and Moritz von Oswald to provide edits, mixdown, and mastering (no doubt inspired by last year's excellent Rhythm & Sound series See Mi Yah). The set begins with an edit of the original "Fisherman" track. Oddly enough, this version removes the fun bass vocals of Watty "King" Burnett, and tape drop-outs seem even more pronounced than on the reissued Heart of the Congos LP. The first disc continues with contributions from the most senior artists. Big Youth deejays, asking, "Did ye hear what The Congos say?" He toasts about fishing in the literal sense, saying "The hungry must be fed," his voice leaping into an upper register. Horace Andy's "Love Love Love" is particularly moving, beginning with the phrase, "Live in love and unity!" He continues, "All violence must come to an end," his voice sweet as ever.
Max Romeo returns to the riddim's roots origins with the chorus, "Give praises to The Almighty for life." All traces of The Congos' vocals are gone from this edit, and reverb cleverly underscores the phrase "a raging storm." On "Live Good Today," Prince Jazzbo deejays with falsetto backing vocals. Dean Fraser improvises a smooth saxophone solo for "Fisherman's Anthem." U Roy echoes Big Youth's literal interpretation, urging "Mr. Fisherman" to "row" for the hungry "on the shore." Sugar Minott's version is one of my favorites. He sings, "Jah is the bus driver…. Jah is the captain of the ship, don't you know…." Another highlight is Mykal Rose's "Let Your Love." His voice is amazing, as he caresses the bassline with a beautiful melody.
The second disc focuses on a younger generation of vocalists. Ernestus and von Oswald are most playful with Paul St. Hilaire's beat, doubling up the snare while he sings about Carthage, "the Black man's town." Reverb builds half-way through. Mr. Raggamonica offers another instrumental solo. Gregory Isaacs' "Spot and Beat the Bank" is surprising in style. He pauses between each line, adding weight to his story of "the fisherman singing." The collection is book-ended by Lee "Scratch" Perry's original Upsetters dub, "Bring the Mackaback."
Half of these two-dozen tracks were released as noisily pressed 45s in the UK a couple of months ago, but the full double LP/CD collection coming out in a week reveals how truly momentous this project is. You may not want to listen to them in a single sitting, but these discs are brimming with sweet music.