Merck, 2006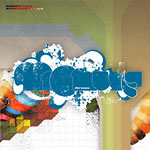 This two-disc remix project is so big, it's taken me a while to form an opinion of it. Machine Drum's style is very similar to Prefuse 73, but is rougher and less melodic. My favorite Machine Drum tracks are actually off Merck's Dosage and Squadron comps. His previous remix album, Half the Battle was pretty good. Mergerz & Acquisitionz features plenty of big name electronic musicians, but only a few mixes really stand out.
Nautilis' "Blackwidow Mix" has some groovy synths and 808 beats, but a melody never develops. Kid 606 creates a collage of disparate elements on "Da Kidness Mix." It sounds rather scattershot. Bauri's "Offs Live Jam Mix" has plenty of bass and beats, but it feels repetitive. On "A Walk Through M and D" Team Doyobi generates dense layers of unusual sounds. It's most interesting on a technical level. Old favorite Funckarma's "Machinebong" is dark and busy. It sounds like a Shadow Huntaz outtake until it builds to almost Richard Devine complexity.
Acidwolf's "Cherokee Lectro Mix" is one of the more memorable mixes. Broken vocals and retro synths make for a melodic eighties-inspired anthem. Another favorite, Jemapur's "Bidnezz," is funky and Prefuse 73-esque with a "Billy Jean"-inspired section at the end. Deceptikon provides a nice downtempo piece. Calmer's "Mltply—Hot Air Ballon Mix" [sic] is drum and bass with a jazzy synthesizer line.
I like the second disc better. Landau's "Stevieblam" is sweet and melodic with lots of bass. Kettel's mix is also quite beautiful. He imbues a hip-hop beat with oodles of emotion (without sounding like Boards of Canada). Deru contributes the understated "Jaya—MD Melange." Wake makes creative use of samples on "Trvsltsmltply." Miles Tilmann surprises with scratching (by Chuck Sunshine) over a wicked bassline on "Break Stylez Remix." I wouldn't mind if it were twice as long. "Bill O Wads Crankshaft Twist" has some really nice beats and a simple electronic melody. Secede's "Offs Cassis Wings Mix" is revelatory. It sounds nothing like a Machine Drum track, with lush bursts of pure electronics.
There are some good mixes here, but I feel like Merck could have pared the collection down to a single disc of the most passionate tracks. A lot of the contributions (especially on the first disc) seem cold and unemotional, which may just be a reflection of the source material.