EV, 2006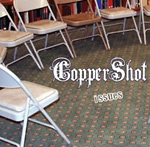 According to their press material, Copperpot and LongShot both have bad boy reputations. There's definitely an edge to some of these tracks, but it's tempered by intelligence and talent.
First up is the title track (and first single). LongShot raps over a bluesy guitar lick. His style is smooth with rapid-fire rhymes. "I got issues," he admits. On "Forgive Me," LongShot launches into a diatribe against George Bush, observing, "Our troops ain't ever coming home." It's the perfect opportunity for KRS One, Akbar, and KB to join in. Says KRS One, "Living in a time of constant attack/the world is whack/four more years of Iraq…." Unfortunately, the poppy production is too upbeat for the subject matter. ("This How We Live" suffers from the same problem.)
Copperpot's beats on "Breathe" are more creative, with rumbles of bass, beatboxy sounds, and ominous orchestral horns. "Save Me" featuring Ka Di is soulful with heartfelt lyrics on self-destruction and a thick bassline that occasionally stutters artfully. "Who's Turn Is It?" [sic] is a haunting track with mournful funeral horns. LongShot relates tales of death stalking innocents, from house fires to drive-bys.
"Culture Pop" is an unusual collaboration with British rapper Braintax. The Leeds native (founder of Low Life) rhymes, "We're like sponges at sea/absorbing all of this./So much blame to hand out;/Blair, Bush, and Wolfowitz." He goes on to lament cultural "dumbing down." Other favorites are the jazzy "Can You Believe" and "Black Father's Day Theme." The live instruments on the second of two bonus tracks remind me of early efforts by The Roots.
This is a strong debut, with luscious production and thoughtful verses. Shot's detailed liner notes explaining each track make it even more personal. Issues will be released April 24.