Concrete Plastic, 2006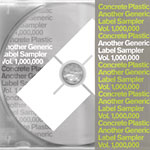 This compilation may have a snarky title, but it's a nice collection nonetheless. Concrete Plastic's style is quite similar to Ai's, mixing UK techno with darker electronics. First up is The Other Collectors' "Stan Smith" off the amazing Trainer EP. It's deliciously disco. Next up Rootsix provides an intelligent techno track, combining a surprisingly wide variety of sounds in less than six minutes. 214's contribution leans towards IDM, with a distorted bass beat and a spacey melody. Praveen's "Buddy" is a sweet, downtempo piece with piano and guitar building to a melodic peak. Yellotone's "Healing" is also mainly acoustic, a departure from his earlier material. Posthuman is a compilation favorite, but their track here is the best by them I've heard in ages. "Golan Trevize" is dense, noisy IDM with a sweet underlying melody. Rootsix's second contribution, "Randolphine Speak," is chock-full of ideas. The best part is a wicked acid bit about half-way through. Finally, Rösner's "Through the Glass" is mellow and experimental with pulses and acoustic plucks.
This is a solid CD, and at a mere 500 copies, it's sure to become collectible. As a manifesto, it's a little unfocused, but I'm sure Concrete Plastic will start to gel as it issues more 12-inches. At least the requisite sampler is out of the way.