Modern Love, 2008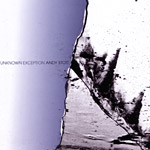 While Stott's first album was all over the map, this collection of recent EPs sees him honing in on a distinctive, dubby style. The bass drops are massive.
"Fear of Heights" rolls along with huge low-end blurps and scattered reverberating note runs. Somehow it evokes a barren urban wasteland. Similarly, "Bad Landing" is spooky with swelling chords and a muted treble melody over oceans of deep woofer-wobbling waves. "Handle with Care" is wonkier but short.
"Long Drive" and "Credit" both have an old-school house feel. They provide a welcome break from punishing bass. The latter cut is quite haunting, with an early Trax feel.
"Massacre" is a return to deep dubbiness with insistent chord stabs. "See in Me" is slow and sweet, the ghost of a song. "Made Your Point" is straight-forward, quality dub techno in the Basic Channel tradition.
"She's Gone Wrong" starts as Sähkö-style minimalism, before chords pull it into something more emotional. "Fine Metallic Dollar" has a similar feel, but with quirky industrial bits that remind me of Plus 8 at its best.
Nearing the end of this generous album, "Hostile" was an in-demand techno white label from late last year. It takes a single idea and runs with it, making for a good club stomper. "Replace" is an uplifting conclusion, with Detroit synths dancing to a snappy beat. It's the catchiest tune here.
Per the press release, Stott's first demos were inspired by his friend Claro Intelecto. His shift to deeper territory is a welcome departure. These tracks needn't be shoe-horned into a particular genre. They're simply quality electronic music.