Think Differently/Babygrande, 2005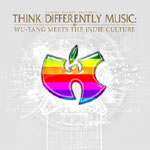 Dreddy Kruger put together this collection of exclusive collaborations between Wu-Tang-related artists and big-name indie rappers, including MF Doom, Aesop Rock, Del, Planet Asia, and Cannibal Ox. The result is a surprisingly consistent slew of great tracks. First up, on "Lyrical Swords," GZA and Ras Kass rap about the technicalities of putting together a decent cut. The long instrumental outro should please DJs. Next Vast Aire growls over guitar licks on "Slow Blues." Timbo King, Prodigal Sunn, and Byata all contribute solid verses. "Think Differently" has really crazy production with simple synths, repetitive vocal snippets, and knocking woodblocks. Casual, Rock Marciano, Vordul Mega, and Tragedy Khadafi rap. Another highlight is DJ Noize's tribute to O.D.B. Scratched samples spanning a couple of decades bid farewell over a soulful loop.
"Verses" is amazing. After some rambling bravado from La The Darkman and Scaramanga Shallah, Ras Kass gets political, saying, "Bush gave 6.46 billion to Halliburton/for troop-support efforts in Iraq,/meanwhile the hood is hurtin',/please believe that./The rape-over, Cheney talking forty-five dollars for a case of soda./Draining tax payers, eighty-five-thousand-dollar oil filters but won't pay they soldiers./Halliburton workers make fourteen thousand dollars a month,/privates earn thirteen Gs a year." GZA takes the battle home with a verse on urban violence.
Aesop Rock and Del Tha Funkee Homosapien get perfect production on "Preservation," but C.C.F. Division fail to live up to the beat on "Cars on the Interstate." Only a couple of tracks seem truly weak. "Biochemical Equation" features rhymes by RZA and MF Doom, who should both stick to making beats. Del Tha Funkee Homosapien is really out-there on "Fragments," and while his lyrics are amusing, the track seems out of place.
This is a dream-team compilation with some unlikely pairings. As a bonus, lengthy liner notes describe how each track came about (often from audio files exchanged online). With so many weak rhymes getting airplay, a project like this brings back good old days before rap became pop.