Ad Noiseam, 2005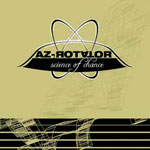 Serendipity is what this album is about, although the intricate arrangement and anal production skills on display here would suggest otherwise. Myriad electronic musicians have embraced the motto "the message is the process" in recent years, in most cases annoying listeners in the process (no pun intended). Intrepid ears out there will be far from annoyed listening to these eleven pieces.
The casual arrangement of audio particles that makes up most of Science of Chance is generated, selected, and surgically rearranged by AZ-Rotator, bringing to life the micro-reality of the processes in the macro-reality of music. Imagine a mad chemist's test tube where the different ingredients are constantly bubbling in a concoction of silken synthesizer jelly, and you'll be close to picturing the sounds contained here.
This music moves fast, but somehow manages to evoke that bucolic space where time literally melts. Think Boards of Canada on speed in a VR wormhole travel simulator (Actinome), or a Richard Devine possessed by the mind of a demiurgic architect (Hemonen).
Science of Chance is the missing link between the sluggish IDM scene and the more adventurous sounds of that (apparently on the brink of "acceptance") malignant virus called breakcore. Now that some of the daring names of the past are looking back at their own trails, it's refreshing to see that new artists are able to break free from the Moebius strip of genre as cliché. And this is only AZ-Rotator's first album, which makes it an even more breathtaking achievement.