Profan, 2010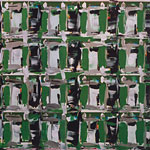 There has been a long history of interaction between experimental techno and classical music, from Aphex Twin collaborating with Philip Glass to Carl Craig and Moritz von Oswald "recomposing" Ravel and Mussorgsky.
Wolfgang Voigt used subtle orchestral samples on his albums as Gas; however, on this full-length, an expansion of a 2008 EP, he is much more explicit in his use of avant garde compositional techniques. The entire album is made up of synthesized piano, mostly played forte over a heavy kick drum. Needless to say, it's not for everyone.
On "Alleingang," lines of rhythmic keys clash over a stomping allegro beat and ominous bass. "Zimmer" is tense and atonal. The bassline alternates between two notes with space between every four measures, like a stolen breath. Hard piano sounds are dull and digital with a flat volume, evoking a silent film industrial nightmare.
"Feld" offers respite from heavy bass. At times it's obvious the pounding piano lines were edited together from multiple bits—surely a Modernist touch. "Geduld" introduces a lighter tone. Its simple, unison chords remind me of old video game music. On "Schweres Wasser," patterns seem to fall in and out of sync like a Steve Reich tape loop. Eventually, the dense mass of notes creates a unique texture. "Kammer" is a little softer. One individual treble part has an improvisational feel.
Near the end of the album, there is a series of slow, beatless compositions. It's easier to hear the piano's harsh timbre as notes plod. I'm reminded of a toy keyboard.
While this is challenging music, I do enjoy playing it. I realize Voigt's concept is an album made from three simple sounds, but I do wish the dynamics were more varied. These pieces will make you think about electronic music in a new way. They're gutsy and raw. They may even inspire you to nod your head in time.